Post by Scumhunter on Apr 12, 2019 1:18:45 GMT -5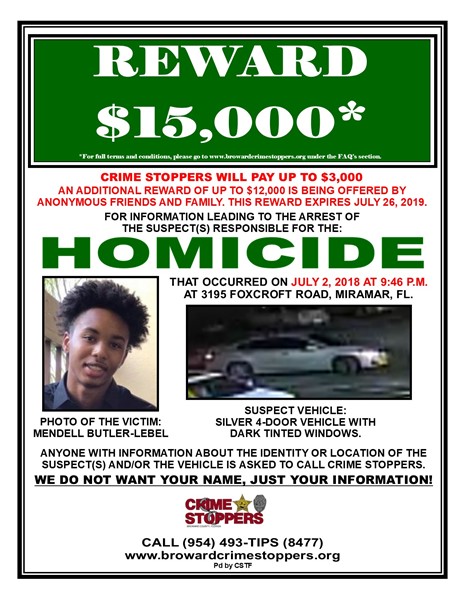 (Above photo credit: Broward Crime Stoppers)
From the South Florida Sun-Sentinel:
A grieving mother is determined to find her son's killer — and her family, friends and coworkers are raising reward money to do it.
Omorose Butler's efforts have added $12,000 to Broward Crime Stoppers' $3,000 for a reward fund that has grown to $15,000.
She hopes to generate tips that flush out the person who fatally shot 17-year-old Mendell Butler-Lebel on the night of July 2.
He had been eating dinner at home that Monday night when he got a text from a friend and decided to tag along on a trip to the store. The shooting broke out when they returned.
"It is my belief that Mendell was not the intended target," she said. "[Detectives] said they cannot find any motive."
Miramar police agree the teenager was just a bystander when shot in the back during a drive-by shooting that wounded two other men outside the Foxcroft Condominiums, 3195 Foxcroft Road, near the intersection of Miramar Parkway and Douglas Road.
Those two men survived the shooting and have moved away, she said.
Police are looking for a silver 4-door car, possibly a 2012-2014 Nissan, with tinted windows that a security camera recorded driving through the parking lot near the time the shooting took place.
Omorose Butler and her family went door to door handing out fliers and searching for clues before she recently moved to Cooper City because there were just too many painful reminders of the murder in Miramar.
"I did move out of the Foxcroft Condominiums Sunday," she said. "Mendell had lived there since he was nine so it's just tough."
Butler-Lebel had a 3.7 grade point average entering his senior year at Miramar High School and he was taking an honors course in criminal justice.
He had celebrated his 17 birthday the day before he died.
"He was just very loving," she said. "He would just come up to me and say, 'Mom, I love you,' and hug me."
The Butler family has collected more than $1,300 through a GoFundMe webpage.
A billboard truck displaying the reward poster has been driving around the scene of the shooting to refresh memories and generate leads.
Miramar police said the reward offer will expire on July 26, 2019.
Detectives are asking anyone with information on the triple shooting to contact Broward Crime Stoppers, anonymously, at 954-493-8477 or online at browardcrimestoppers.org.
www.sun-sentinel.com/local/broward/miramar/fl-sb-miramar-teen-murder-reward-20180905-story.html
Additional article on this case:
www.sun-sentinel.com/local/broward/miramar/fl-sb-miramar-murder-memorial-20180705-story.html
Thoughts? As of this posting date (April 12th, 2019), Mendell's case is unfortunately still listed as unsolved on Broward Crime Stoppers.
According to another article, Mendell had aspirations of becoming a lawyer and was taking an honors course in criminal justice. It's very heartbreaking his life was cut tragically short for senseless gun violence he had nothing to do with.
Admin Note: If you have any (news-related) updates on this case, please contact us here: amwfans.com/thread/1662/website-contact-form