Post by Scumhunter on Nov 5, 2018 1:50:36 GMT -5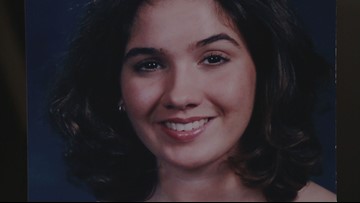 (Above photo credit: wbir.com via Knoxville Police Department)
From wbir.com (NBC 10 Knoxville):
Knoxville — "Determined stubborn, hard-headed, compassionate, beautiful person," is how Cynthia Thacker described her daughter to us in a 2010 interview.
Her daughter had been gone a year when she sat down with us last, now it's been almost a decade.
"Our world is not the same since Gina was taken away. Nothing has been the same," Cynthia wrote to us in an email.
Thacker had just lost her husband the year before. Describing the loss of her only daughter is difficult, so she put it into writing.
"She loved to smile at you, and for you to smile back," Cynthia wrote.
It's pain she's lived with daily, as she tries to hold onto bright memories of her daughter.
"As beautiful as Gina was on the outside, her inside was ten times greater still," Cynthia wrote.
It was in the early hours of Feb. 8, 2009 when the beautiful 23-year-old with a heart for helping others, was shot and killed.
"We hit this case really, really hard. We just need a break," Investigator Jeff Day said. He had recently joined the homicide team in 2009, when he jumped in the search for Gina's killer.
Homicide teams established a timeline of Gina's final hours.
After leaving a waitressing shift at the Emory Road Shoney's, Gina went home where she lived with her boyfriend off Pedigo Road. Then she headed out, alone, to a bar called Spicy's off Emory.
"She left there at 2 a.m. and left alone," Day said. "I don't believe she was seen again after that."
2 hours later, Gina was found shot dead in her car.
"She'd been shot probably while she sat in the driver's seat, more than once," Day described. "It appears she was shot through an open door, the driver's window was open."
The vehicle was parked at the Valley Oaks apartment complex off Valley View Drive, where Gina didn't live and didn't know anyone.
"She was in a Corolla, sitting in a parking space right when you come in the parking spot," described Day. "Makes you think she wasn't visiting someone specific, maybe we don't know who she was there to see."
Investigators say there is a possibility she may have had a passenger. The side seat was reclined back and they also found some drug paraphernalia.
Current evidence likely points to a robbery.
"There was green purse strap that was on the parking lot just outside her driver's door like it had been torn off a purse. Her purse was missing along with her cell phone," Day said. "It appears maybe she was trying to fight them.
Investigators never recovered Gina's cellphone and credit cards, they were never used.
With little to go on, the search for answers began immediately, but the quick action turned no results.
"We probably had 20-30 people out the next day knocking on doors, nobody saw a thing. No cameras at that complex at that time to help us out," Day described. "They had dumpsters searched, went everywhere she had been 3 times."
Gina's family took their own steps, putting up a massive billboard to bring attention to the case.
The sign read 'Who Killed Gina' and was off I-640 towards East Town Mall. It stayed there for years.
As this cold case approaches a decade with no answers, there are two things that could get it solved.
"Either evidence we've already obtained, DNA that we don't have a hit on and the right person gets arrested and we get a match, or someone knows, watches this and comes forward," Day said.
It's a waiting game for investigators, while a mother wishes she could have her little girl back.
"There is not a day that goes by when I wish with all my heart that 'I could make it better'," Cynthia wrote.
If you know anything about this homicide, you can give tips to KPD through their hotline at 865-215-7317. Callers can choose to remain anonymous.
www.wbir.com/amp/article?section=news&subsection=crime&headline=appalachian-unsolved-gina-thackers-murder-approaches-10-years-with-no-tips-leads&contentId=51-610570046
Thoughts?
Admin Note: If you have any (news-related) updates on this case, please contact us here: amwfans.com/thread/1662/website-contact-form