Post by Scumhunter on Jan 15, 2017 5:36:06 GMT -5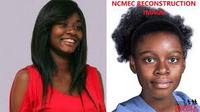 (Above photo credit: news3lv.com)
UPDATE: In August 2021, Mohave County Jane Doe was identified as 18-year-old Kimberly Rena Jones, who was reported missing out of San Bernardino California in 2017.

Anyone with information about Kimberly Jones is asked to contact the Mohave Sheriff's Office Special Investigations Unit at 928-753-0753 ext. 4408 or call their toll-free number at 1-800-522-4312. This investigation is ongoing.

news3lv.com/news/local/deceased-jane-doe-in-2016-cold-case-identified-as-missing-california-teenJane Doe Profile as of January 15th, 2017: (Based on missingkids.org website)Date Found: Sep 28, 2016
Location Found: Mohave County, AZ
Estimated Age: 14-17
Sex: Female
Race: Black
Hair Color: Black
Eye Color: Unknown
Estimated Height: 5'5" to 5'7"
Estimated Weight: 110 lbs
TIPS: Anyone having information should call 1-800-THE-LOST or the Mohave County Sheriff's Office: 1-928-753-0753 or Mohave County Medical Examiner's Office: 1-928-505-5888
From missingkids.org:
On September 28, 2016, the body of an unidentified black female was located off of US Highway 93 in an unincorporated area of Mohave County, Arizona. This section of Highway 93 is heavily traveled and is a main thoroughfare between southern Arizona and Las Vegas, Nevada. Based on the condition of the body, it is estimated that the Jane Doe had been deceased for 1-2 weeks. She is believed to be between 14 and 17 years of age and had thick, curly black hair, approximately 5 inches in length. Her fingernails appeared clean and manicured and there were remnants of pink polish on her toenails. It is noted that possible orthodontic intervention was contemplated, possibly Invisalign. A "Hollister" brand t-shirt was found near her body. The featured reconstruction is an artist's rendering of what the Jane Doe may have looked like. If you have any information, please contact the Mohave County Sheriff's Office, reference case number 16-35440 or the Mohave County Medical Examiner's Office, reference case number 16-1674.
www.missingkids.org/poster/NCMU/1280372/1/screen
Thoughts?
Admin Note: If you have any news-related updates on this case, please contact us here: amwfans.com/thread/1662/website-contact-form