Post by Scumhunter on Jun 1, 2023 16:02:11 GMT -5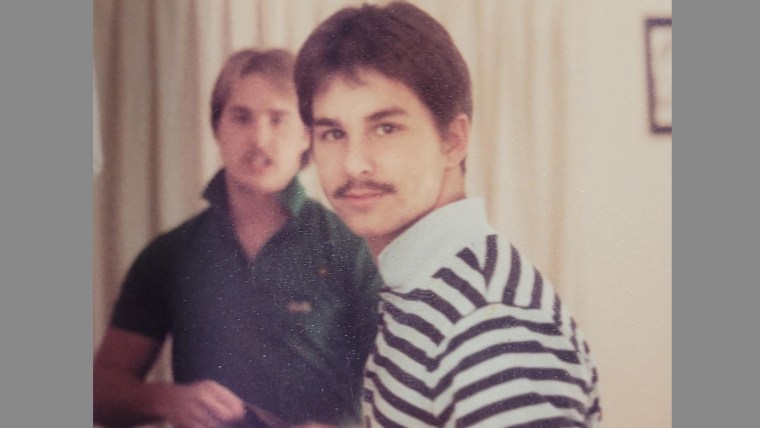 (Above photo credit: nbcnews.com)
From nbcnews.com:
On May 18, 1996, Bob and Kristi Dale went to a wedding in Sault Ste. Marie, Michigan. When the wedding ended, the couple headed downtown to go out for drinks. Before the night was over, 33-year-old father of three Bob Dale disappeared. That was 27 years ago.
Bob and his older brother, Steven, and their younger brothers, Scott and Rich, actually grew up in Sault Ste. Marie. Dateline spoke with Bob's brothers, who described a typical suburban childhood, filled with hockey, football and a love of the great outdoors. Bob was "the woodsman of the family," Scott said. "He was a lot like my dad," Scott said. "He loved the woods. He loved to fish."
Youngest brother, Rich, recalled a trip the brothers took in early 1996. He said that for the first time in a long time, all four brothers went out on a fishing trip. Just the four of them -- no kids, no wives, no parents. "We just had so many laughs and so much fun," Rich said. "It was very rare for the four of us to be with no kids, no parents, no wives, to be together alone. That was a rarity. I think we all wish we could have done it more. But hindsight, you know?"
Bob met his wife, Kristi, in high school and they got married at 18. In 1981, Bob joined the Navy. Once out, he became a contractor. By 1996, he and Kristi had three young sons, Robert, Devin and Connor. The family lived in Sault Ste. Marie, Michigan, not too far from the rest of Bob's family.
On May 18, 1996, the couple attended the afternoon wedding of Bob's boss, followed by a reception held at the bride's parents house, near 6 Mile Road and Mackinaw Trail in Sault Ste. Marie.
Dateline spoke with Kristi Dale, who said a group of the wedding goers wanted to keep the party going and headed to downtown Sault Ste. Kristi said the rest of the night was a bit of a blur, as the group had been drinking.
Dateline spoke with Detective Sergeant Darrell Harp of the Sault Ste. Marie Police Department who picked up the story. He said that according to witness statements, "Kristi was assisted by the people attending the party to get Bob into the passenger seat," before heading downtown. The detective noted that the people who helped get Bob into the passenger seat followed Kristi as she left the party in the minivan. Harp said that those witnesses reported that "Kristi drove north on Mackinaw Trail. As Kristi drove north, the person following Kristi then turned onto 6 Mile Road, and this was the last time that anybody other than Kristi saw Bob." Harp said that the police records state that Bob was last seen by witnesses "at approximately 10:45 p.m."
Kristi told Dateline that Bob crashing in the passenger seat wasn't unusual. "To me, that was what Bob had done most of the time when we would go out," she said. "I would just leave him in the car or whatever, because I could never really wake him up." And that's what she said happened that night: She left Bob passed out in the car while she went into the bar to have a few drinks with her friends.
Detective Harp told Dateline that to this day, no one has come forward to say they saw Bob downtown that night. He also said that witnesses who saw Bob leaving the reception told authorities based on his state, "It's hard to imagine that he would have made it very far [on his own]."
According to Detective Harp, records show that back in 1996, Kristi told authorities that she remembers she vaguely saw Bob walking away from their vehicle and down an alley. Kristi recalled something similar while speaking with Dateline. "I went out back of the alley… I thought I had seen Bob. Going back in my mind the next day, wondering where he was, it was such a brief memory that I don't know if it was real," she said.
Detective Harp told Dateline that according to police records, Kristi told authorities she returned to her residence around 1 a.m. to take the babysitter home and then went back to the downtown area to look for Bob. Witness statements indicated that Kristi was seen downtown around that time.
Kristi told Dateline she started to get nervous when Bob wasn't home by the next morning. "It's just not something he would do," Kristi said. "So I woke up, and I called a friend that I thought he may be with from the wedding."
Scott Dale and his wife, Kathy, told Dateline that they received a frantic call from Kristi around 7:30 that morning, asking if Bob was at their place. Scott said when they told her no, Kristi said she was worried he was missing so he and Kathy headed to the house to check on her. According to Scott, Kristi told them that she and Bob had had an argument the night before, which Kristi confirmed to Dateline.
Initially, Scott said the family thought Bob might have crashed on a friend's couch to cool off from the argument. "There was no urgency really that first morning," Scott said. "Not till it got to be about 1 o'clock."
Detective Harp said that in the early morning hours of Sunday, May 19, Kristi reported her husband missing to the Sault Ste. Marie Police Department.
Scott told Dateline that by Monday, authorities and the Dale family were out searching for Bob, "the downtown area, all the way to their house," Scott said. "Nobody found nothing. No clues. The helicopters didn't see anything in the water. You know, there was just nothing."
Detective Harp said that the search efforts initially were focused on the downtown bar area of Sault Ste. Marie and then expanded to the surrounding area, including the railway system, the area in and around the Soo Locks, as well as the rail bridge connecting Canadian sister city Sault Ste. Marie, Ontario, over the St. Marys River. Also on the St. Marys River, authorities searched the area near the Cloverland Hydroelectric Collective, which has a hydro power canal that the detective said runs very swiftly and can be dangerous. According to Det. Harp, the Sault Auxiliary Police, Michigan State Police, Chippewa County Sheriff, Tribal Police and the have all assisted and offered their resources in the search for Bob Dale. He told Dateline that searchers have even used ground-penetrating radar with the assistance of the Lake Superior State University staff to search for Bob.
But no trace of Bob was found.
During the initial investigation, multiple witnesses were interviewed, including Kristi Dale, who Det. Harp described as cooperative. He added that Kristi "has cooperated with law enforcement recently," as well. Kristi told Dateline she has even taken two polygraph exams and passed both, which Det. Harp confirmed to Dateline.
He said he does believe it's possible foul play is involved in Bob's disappearance, but no suspects have been named in the case.
"If there's a person that's still alive that had something to do with it, sure, I'd love to be in the courtroom for that," Bob's brother Rich told Dateline. "Whether it's been this long or not, it'd be nice to close the door."
"You know, if we find out that it was a mad man on that road, then that is fine," Scott added. "We want to find Bob. That is our one true mission that we need. We just want him."
One thing the Dale brothers do not believe is that Bob just walked away from his life all those years ago. "I just couldn't believe that he would do something like that," Steven Dale said. "He really loved his boys." And, according to Scott, his brother was making plans for the future. "He had some big, big dreams of becoming his own contractor, you know, doing his own thing," he said.
For now, though, the brothers each have their own family and try to continue on with their lives even as they continue to hope for answers about Bob. "Time is moving on," Rich Dale said. "We all have to live our lives. I think Bob would want it that way."
Bob would have turned 60 this past November and no doubt would have celebrated with his family, which now includes his three young grandchildren. Kristi Dale has one hope for her high school sweetheart husband and for the family. "Pray we get answers one day -- so we can all have peace," she said. Steven Dale summed it up for his brothers. "All we want to do is find out what happened to him. Period."
On the night of May 18, 1996, Bob Dale was reportedly wearing a yellow polo shirt, black jeans, black and brown loafers. He was carrying a brown wallet and may have been wearing a class ring and wedding band. If you have information about his disappearance, please call Det. Sgt. Darrell Harp at the Sault St. Marie Police Dept. at 906-632-3344
www.nbcnews.com/dateline/missing-in-america/family-sault-ste-marie-man-vanished-1996-wedding-still-searching-clues-rcna87154
Charley Project page on Bob's case:
charleyproject.org/case/robert-allen-dale-jr
Thoughts? I am placing Bob's case in the National Media section because of the above coverage on Dateline NBC's "Missing in America" digital series.
Admin Note: If you have any (news-related) updates on this case, please contact us here: amwfans.com/thread/1662/website-contact-form