Post by Scumhunter on May 29, 2023 9:50:35 GMT -5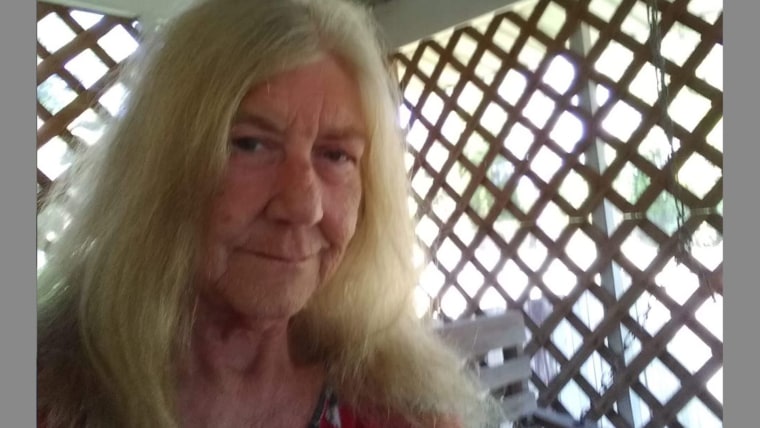 (Above photo credit: nbcnews.com)
From nbcnews.com:
"We just want to see her back home," Cara Hartley told Dateline. "We want to see her safe and alive, but we just want — we want her back home."
Cara's aunt, 66-year-old Theresa Hartley, was last seen on March 10, 2023.
"She's a funny, kind, sweet person," Cara said of her aunt. "She's always looking out for people."
Cara told Dateline that Theresa has spent her entire life in St. Augustine, Florida. "It's right on the water," Cara said. "It's really beautiful."
Although they live in the same city, Cara said because of the busyness of life, she hasn't spoken to her aunt for quite some time. "I haven't spoken with her since October of [2022]," she said. "I didn't find out she was missing until a reporter reached out to see if she was my aunt and I realized a police report had been made."
According to Cara, the police report was made by a longtime friend of Theresa's, Robert Markwell.
"I grew up around her and her husband since the '70s," Robert told Dateline, adding that Theresa's husband died in 2016. She had no children. According to Robert, Theresa is "very meek, sweet, very, very soft-spoken."
"She has a great personality," he said.
Robert told Dateline that he spoke with Theresa every day and was even helping her remodel her home in St. Augustine. "I'm at Theresa's house sometimes, you know, anywhere from one time a day for several hours to a couple of times a day," he said.
Robert said he last spoke to his friend on Friday, March 10 — the day she disappeared.
Robert said that he and his girlfriend were at Theresa's house earlier in the day. "We went to Theresa's house and continued working" on the house, he recalled. "Theresa and [my girlfriend] spent some time at the table going over paperwork."
Robert told Dateline that in recent months, Theresa had been suffering from some memory loss problems, so they had been helping her out. "She wasn't paying her electric bill, her water bill, so [my girlfriend] and I took over," Robert said.
The next day, on Saturday, March 11, Robert said he went back over to Theresa's house, but she was nowhere to be found. "She was supposed to cook a birthday cake for my girlfriend's surprise party," he told Dateline. A surprise party scheduled for Sunday, March 12.
"[Her]roommate told me she left with
," Robert told Dateline. He added that Theresa's roommate told him that Theresa and the friend said they were going to stop by Robert's house later that day, but Robert said they never showed up.

He said he also tried calling Theresa, but the calls went straight to voicemail. "I didn't worry about it because I figured they were together and they were having fun," he said. Robert told Dateline that he later realized that Theresa had left her phone at home.

Robert said he also tried calling the mutual friend Theresa was with that day, but said the man hung up on him.

Robert told Dateline he really began to worry when Theresa didn't show up for his girlfriend's surprise party on Sunday. "I mean, God, that's not like her," he said. "She don't stay out all night nowhere. Not in years have I known her to stay out all night."

Robert said he reported Theresa missing on Wednesday, March 15.

According to the incident report provided to Dateline by the Marion County Sheriff's Office, Theresa was last seen on Friday, March 10, leaving her home in St. Augustine in a white Dodge pickup with a trailer attached to it.

The report states that a man, whose name is redacted in the report, picked up Theresa so "that they could go collect some firewood for a cookout or bonfire." It goes on to say that the two drove to Lake Delancey at the Ocala National Forest, about an hour away from St. Augustine, and "began collecting firewood and placing it into the truck when the vehicle got stuck."

According to the report, the man said he and Theresa left the wooded area on foot to go get help. After an unspecified period of time, the man told Theresa to turn around and go back and wait in the car till he returned with help. The man told authorities he continued walking and then placed a call to his sister who picked him up on Saturday, March 11. According to the man, when he and his sister returned to the vehicle near North Forest Road 88, Theresa was nowhere to be found.

Dateline attempted to reach out to the friend for his recollection of the event, but did not receive a response.

At this time, the Marion County Sheriff's Office does not suspect foul play in Theresa's disappearance.

The Marion County Sheriff's Office and several search teams have been scouring the Ocala National Forest looking for Theresa. Dateline spoke with Withlacoochee Regional Search and Rescue Chief, Samuel Matychak. He said that his organization has had their horse and canine units out looking for Theresa in the forest.

The search and rescue chief said that so far, they have located two blue metal chairs that belong to Theresa and several cigarette butts near the area of the forest where she was last seen.

The Ocala National Forest is approximately 430,000 acres. "We'll continue to cover another section until we clear the entire state forest," Matychak said. "Hopefully, we find her."

Theresa's loved ones are hoping they find her as well. "I just want to find her," friend Robert Markwell said.

Cara Hartley told Dateline that she has a message for anyone who knows anything about her aunt's disappearance: "If anybody has information about what happened to her or knows where she is -- just do the right thing," she said. Cara also runs the 'Find Theresa Hartley' Facebook page, which is dedicated to finding answers about her aunt.

Theresa is 5'8" tall and has blonde hair and blue eyes. According to Cara, she is around 160 lbs. and was last seen wearing blue tennis shoes and a dark shirt. Theresa is also believed to be suffering from signs of memory loss.

Anyone with information on Theresa's whereabouts is asked to call the Marion County Sheriff's Office at (352) 368-3508.


www.nbcnews.com/dateline/missing-in-america/loved-ones-searching-clues-march-2023-disappearance-missing-florida-wo-rcna78036
Thoughts? I am placing Theresa's case in the National Media section because of the above coverage on Dateline NBC's "Missing in America" digital series.
Admin Note: If you have any (news-related) updates on this case, please contact us here: amwfans.com/thread/1662/website-contact-form