Post by Scumhunter on May 24, 2023 16:12:50 GMT -5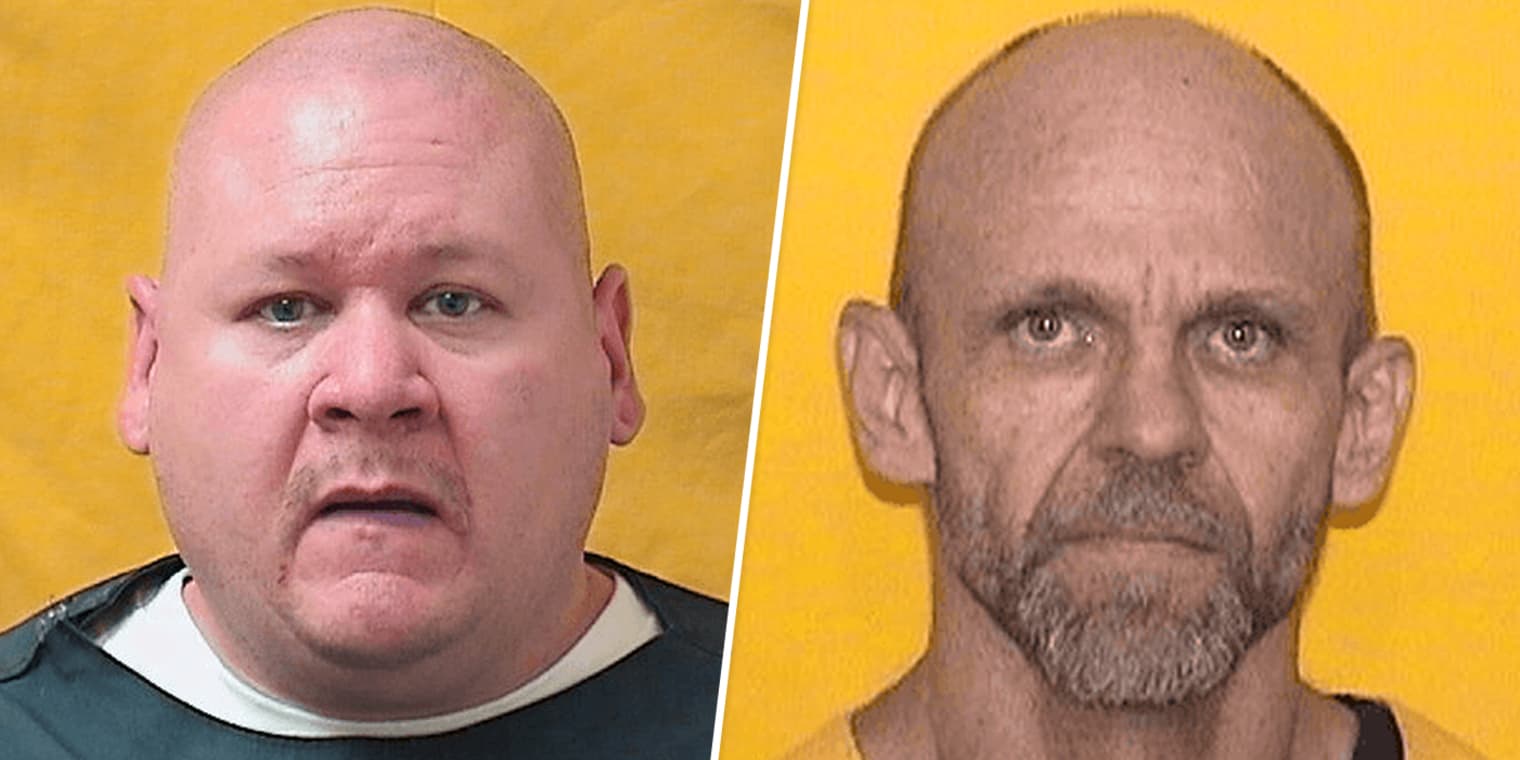 (Above: Left: Escaped inmate James Lee (Captured on 5/24/2033); Right: Escaped inmate Bradley Gillespie (still at large as of 5/24/2023. Photo Credits: nbcnews.com via Allen County (Ohio) Sheriff's Office)
From usatoday.com:
Law enforcement said one of two convicts who escaped an Ohio prison was in police custody Wednesday morning while the other escapee − a convicted murderer − remained at large.
Prisoner James Lee, 47, was captured in Kentucky, the Ohio State Highway Patrol tweeted. Lee was serving prison time for charges including burglary and breaking and entering, online records show.
As of about 7:45 a.m. ET, the other missing convict, 50-year-old Bradley Gillespie, remained at large, officials said.
Lee and Gillespie were both serving time at the Allen Correctional Institution in Lima, roughly 90 miles northwest of Columbus, when they escaped custody on Tuesday, the United States Marshals Service Northern Ohio Violent Fugitive Task Force reported.
A 2016 murder conviction
Gillespie is serving time for a 2016 murder conviction, U.S. Marshals reported.
Police described him as a bald male with blue eyes, weighing 200 pounds.
Reward offered for info leading to Gillespie's arrest
Officials said Gillespie is considered dangerous and said people should not approach him.
A $21,000 rewardis being offered by the U.S. Marshals and state troopers for information leading to Gillespie's arrest.
Anyone who sees him is asked to dial 911.
www.usatoday.com/story/news/nation/2023/05/24/ohio-prison-escape-bradley-gillespie/70251127007/
Additional articles on case:
www.nbcnews.com/news/crime-courts/inmate-convicted-double-murder-run-escaping-ohio-prison-authorities-sa-rcna85973
nbc24.com/news/local/defiance-man-held-in-bizarre-paulding-double-murder-case
Thoughts? This is a breaking news case so the situation is fluid but as of this posting on May 24th, 2023 it seems Gillespie is still at large. I am placing the manhunt in the Fugitives in National Media section because of national network's news websites covering the case.
Additional articles show Gillespie as being convicted for a double homicide of a couple in Paulding Ohio in 2016.
Admin Note: If you have any (news-related) updates on this case, please contact us here: amwfans.com/thread/1662/website-contact-form