Post by Scumhunter on Mar 15, 2023 11:49:31 GMT -5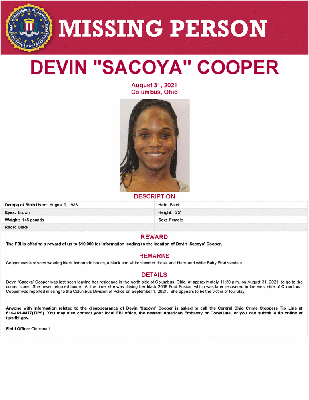 (Above photo credits: fbi.gov website)
From nbcnews.com:
Thirty-three-year-old Sacoya Cooper was last seen on August 31, 2021, when she left her house in the north side of Columbus, Ohio, around 11:30 p.m. to go to a nearby convenience store. She was driving her 2009 black Ford Fusion. It is unclear if Sacoya ever made it to the convenience store.
"We just -- we just want her home," Sacoya's best friend, Bre Belcher, said. Bre told Dateline the last time she saw Sacoya was on August 30 – a day before Sacoya went missing. She said that their hang out that day was perfectly normal. The two would get together often, and have "a typical barbecue. Get a bottle of wine," she said. "Have fun, share past memories and just, you know, just -- to enjoy each other's company."
Sacoya has a strong group of family and friends who are looking for answers. Two of those people are Sacoya's adoptive mother, Luann Cooper, and her biological mother, Regina Love. Luann fostered Sacoya as a child when Regina was going through hard times, and then adopted her when she was 9 years old. "I've been clean 20-something years now," Regina told Dateline. "They got in touch with me and everything. From there, we hung around each other and kept in touch."
Best friend Bre Belcher told Dateline that she and Sacoya have a special bond and that Sacoya is like a sister to her. They grew up in Toledo, Ohio and have been friends for more than two decades. "We was all the family we had," Bre said. She added that both are members of the LGBTQIA+ community; Sacoya is a transgender woman, whose legal name is Devin Cooper.
Bre says that the two have been through hard times together and have always helped each other out. She said that at one point, they were both without a home, but that was all in the past. In 2021, Bre moved to Columbus for a fresh start in a new city. After living there for a bit, she was eager for Sacoya to join her.
After weeks of talking her into it, Bre said Sacoya finally came to visit. She ended up getting a job at a thrift store in Columbus and soon moved her things into Bre's house. Bre told Dateline that she was impressed by her friend, who was able to find her own place within a month of moving to Columbus.
Sacoya's new home was just 20 minutes away from Bre's. But, Bre said with a laugh, that was too far away for best friends, so she moved in next door to Sacoya's new place.
According to Bre, Sacoya was also trying for a fresh start in Columbus. She worked hard and eventually got another job at a nearby McDonalds. Sacoya quickly became the crew manager there and was starting to do better. "She got a house rented. She always wanted a house for her dog, eventually getting that fenced in front yard, backyard, and two cars," Bre said. "She actually came and did what she was supposed to do."
When Bre woke up on the morning of August 31 and saw a missed call from Sacoya at around 3:00 a.m., she said she didn't initially think anything of it. Sacoya hadn't left a message, but Bre said that a 3:00 a.m. call wasn't unusual, as they sometimes worked odd hours and would often be awake at that time.
But Bre told Dateline she began to grow worried as the day wore on. She said she was contacted by Sacoya's partner who asked if Sacoya had stayed at her house the night before, because she hadn't returned home. The two ultimately decided to give Sacoya a few more hours to contact them.
But Sacoya never did.
Bre told Dateline that by the next day – September 1, 2021 – she advised Sacoya's partner that she thought it would be best if he went to the police and filed a missing person's report. Dateline reached out to Sacoya's partner to see if he had any additional details about the day she disappeared but has not yet heard back.
According to the FBI, Sacoya "was reported missing to the Columbus Division of Police on September 1, 2021."
The Columbus Police Department began investigating Sacoya's disappearance and posted her missing poster in October of 2021. Dateline spoke briefly with Detective Chuck Radich, who said there was "not much he could discuss due to the ongoing investigation."
In a press conference just after the first anniversary of Sacoya's disappearance, Det. Radich reviewed the details of the case with the press. "Ms. Cooper was last seen leaving her residence on the north side of Columbus on August 31, 2021, at which time, she was headed to the store -- the convenience store. She never returned home that night," he stated.
The detective went on to confirm that in October of 2021, authorities "located Ms. Cooper's car unoccupied on the west side of Columbus" and "processed the car." The detective said that authorities "do suspect that Ms. Cooper is a victim of foul play," but stressed that authorities couldn't "elaborate on it, due to it being an ongoing investigation."
According to the NBC affiliate in Columbus, police were able to gather some evidence from the vehicle, but did not expand on what they found. Detectives noted that the car did not have Sacoya's original license plate on it when it was located.
According to Bre, Sacoya's cell phone has never been recovered, but Bre told Dateline that there may have been activity on Sacoya's Facebook page after the time she went missing. She said that she has logged on twice and seen that Sacoya's messenger icon was green, indicating that she was online. Bre told Dateline she took screenshots and submitted them to the FBI but is unsure if that led to any developments in the case.
It's hard for Bre to fathom that her friend just vanished without a trace. "It doesn't even happen in movies," Bre said. "So how could it happen in real life?" She thinks someone may know more, or may have seen something that can help, as Sacoya's apartment is located close to many local businesses and storefronts.
Detective Radich agrees. "We believe that there are witnesses in the community that could help bring closure for the family," he stated at the press conference in September.
The Cincinnati Ohio FBI field office is working with the Columbus Police Department to help gather information. "Hopefully, this partnership will be there to push and achieve information necessary for locating Ms. Cooper," Det. Radich said at the press conference. Dateline reached out to a representative at the Cincinnati Ohio FBI field office, who said they were unable to comment on the case at this time and that any information would need to come from the Columbus Police Department.
Sacoya's brother, James Carswell, told Dateline that he is frustrated by the lack of movement in his sister's case. "We have no answers and it's been almost two years and I know that there's -- there are other missing people cases, you know, out there," he said. "But for this to happen all of a sudden -- for this to happen so quickly -- where a person just vanishes in the middle of the night, you know, it makes no sense for us to not have any answers right now."
Bre and Sacoya's family are asking the public to come forward with information. "If you know anything, it doesn't matter how small you think it is," Bre pleaded. "Nobody deserves to go through that. Nobody needs to be cold, alone, or -- who knows? Nobody deserves that and I know somebody knows something." Sacoya's adoptive mother, Luann Cooper added, "All I ask is: If you know anything about [Sacoya] please contact the detective or me. You know, contact somebody to let me know -- or let us know -- what's going on." Sacoya's biological mother, Regina Love, just wants answers. "I just need closure," she said. "Luann and I need closure so we can try to have some kind of memorial or something for her."
Sacoya's loved ones have not given up hope, but are simply being realistic after so much time has passed. "We just want her home," Bre said. "Whether dead or alive -- just home, please. She just deserves to be back to her family."
According to the FBI, Sacoya is 5'5" and weighs 145 lbs. She has brown hair and brown eyes. She was last seen wearing black lemonade braids, a black and white summer dress, and black Baby Phat sandals. The FBI is offering a reward of up to $10,000 for information that leads to her location.

Anyone with information related to the disappearance of Sacoya Cooper is asked to call the Central Ohio Crime Stoppers Tip Line at 614-461-8477(TIPS). You may also contact your local FBI office or submit a tip online at tips.fbi.gov.
www.nbcnews.com/dateline/police-suspect-foul-play-august-2021-disappearance-columbus-ohio-woman-n1302327
FBI.gov missing person flyer on Sacoya's case:
www.fbi.gov/wanted/kidnap/devin-sacoya-cooper
Charley Project page on Sacoya's case:
charleyproject.org/case/devin-m-cooper
Thoughts? I am placing Sacoya's case in the Missing on TV section because of the coverage above from Dateline NBC's "Missing in America" digital series.
Admin Note: If you have any (news-related) updates on this case, please contact us here: amwfans.com/thread/1662/website-contact-form