Post by Scumhunter on Oct 16, 2021 1:15:03 GMT -5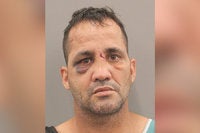 (Above photo credit: oxygen.com)
Fugitive Profile as of October 16th, 2021:
(Based on Harris County online records, articles)
Full Name: Camilo Morejon Ordaz
Date of Birth: 2/18/1973
Age (as of 10/16/2021): 48 years old
Place of Birth: Texas (U.S. citizen but also a Cuban national)
Height: 5'7"
Weight: 190 lbs
Hair: Black
Eyes: Brown
From ABC 13 Houston (abc13.com):
HOUSTON, Texas (KTRK) -- A man charged with killing three people in a drunken crash last year is on the run after a judge lowered his bond.
Camilo Morejon, 48, was broadcasting live on Facebook, moments before the deadly crash last October.
He bragged, "I drive better drunk" and then took a sip of beer. His now-deceased girlfriend, Leosveyka Gonzalez Almenares, was in the front seat. Passengers Ricardo Rodriguez-Tamayo and Massel Rodriguez Rodriguez were also killed.
The crash happened Oct. 25, 2020 at FM 529 and Fairview Street. Harris County Sheriff's Office investigators say Morejon was behind the wheel of a Honda when he slammed into a Ford F-150, injuring the driver and killing his own passengers.
The Cuban national was charged with 3 counts of intoxication manslaughter and 1 count of intoxication assault. He was injured himself and did not appear in court until two days later.
"The blood results came back as .168," the prosecutor told the hearing officer last October. She added that was he was also speeding.
"According to the vehicular reconstruction expert of the crash, he was speeding 90 mph in a 45 mph zone," she said.
The State requested a high bond. The hearing officer set it at a total of $275,000 for the 4 charges and for 9 months, Morejon remained in jail. On July 15, 2021, court records show 339th District Court Judge Te'iva Bell reduced bond to $110,000. Morejon was released. Conditions included wearing a GPS monitor and "promising to appear in court on time, every time," his case was on the docket.
On Thursday, Morejon did not show up to court. Judge Bell denied bond. She did not respond immediately to an ABC13 request for comment.
Officials with the Harris County Pre-trial Services also did not respond to questions regarding Morejon's ankle monitor.
He is now a fugitive. Warrants have been issued for his arrest.
abc13.com/camilo-morejon-fugitive-dui-crash-suspect-flees-on-the-run-fairview-drive/11127610/
Thoughts? As of this posting date (10/16/2021) Camilo Moron I mean Camilo Morejon is still listed as having a warrant/still not in custody according to a search of Harris County's online court records. Additional articles state that his full name is Camilo Morejon Ordaz and even though he was born in Texas he is also a Cuban national.
www.hcdistrictclerk.com/edocs/public/search.aspx?ShowFF=1
I am placing Morejon in the fugitives on TV section because the Oxygen network's crime news blog did a story last year about the video and arrest. And I must say I've seen toxicity results in these alleged drunk driving cases but never being caught red handed in this way before.
www.oxygen.com/crime-news/camilo-morejon-was-allegedly-drinking-on-facebook-live-before-fatal-wreck
www.click2houston.com/news/local/2020/10/27/new-video-shows-man-drinking-behind-wheel-moments-before-crash-that-killed-three-people/
And yeah it seems these idiot judges fall out of trees in Harris County. So apparently he wasn't going to flee because he "promised" to show up on time for all his court dates? Did the judge make him pinky swear as well
Finally, even though the article didn't advise where to call if you have information on Morejon's whereabouts, I am pretty sure since this is a Harris County case you can contact Houston Crime Stoppers:
crime-stoppers.org/
Admin Note: If you have any (news-related) updates on this case, please contact us here: amwfans.com/thread/1662/website-contact-form