Post by Scumhunter on Aug 12, 2021 2:29:55 GMT -5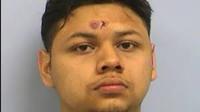 (Above photo credit: cbsaustin.com)
From CBS Austin:
Franco Javier Maldonado, now 21, is wanted on murder charges for an incident that started with a drug deal in September 2020.
"They were congregating at the 12300 block of Yarmont Way and there was a conversation that took place among these young adults. It was primarily orchestrated as a meetup on Snapchat," said Deputy U.S. Marshal Brandon Filla.
Surveillance video shows everyone involved leaving the scene, and that's when things turned violent.
"Two shots were fired at the victim from the back windshield where he was eventually pronounced deceased," said Filla.
The victim was 16-year-old Luke Kemper. Officers say other witnesses at the scene told them Maldonado talked about the shooting after it happened.
"They said hey, following the shooting this individual got back in our vehicle and drove around the city and had a conversation saying, 'I don't think I hit anyone'," said Filla.
U.S. Marshals said this isn't Maldonado's first run-in with the law.
"Maldonado has a criminal history that pretty much replicates this scene, it's narcotics and theft of a firearm," said Filla.
They believe he may still be here in Central Texas, but there's also a good chance he's fled to Mexico and they need the public's help to find him.
"If you see this individual call our tip line and provide us with that information because you never know what could lead us down the path to bringing him back to the United States or to get him into custody," Filla said.
Franco Javier Maldonado is 5'11 and weighs about 195 pounds, with black hair and brown eyes.
If you have any information on him, contact the U.S. Marshals Service at 1-800-336-0102 or visit www.usmarshals.gov/tips
cbsaustin.com/news/local/us-marshals-search-for-man-wanted-on-murder-charges-after-incident-stemming-from-drug-deal
Thoughts? Based on the above article's posting date, Maldonado was still at large at least as of August 11th, 2021.
And yeah this might have been a drug deal turned murder but Luke Kemper was only 16 years old. He had plenty of time to turn his life around, but it was tragically cut short instead.
UPDATE: As of August 31st, 2022 anyone with information on this fugitive's whereabouts can also call or text "In Pursuit" on the Investigation Discovery channel at 833-378-7783 and/or submit a tip at the show's website: www.InPursuitTips.comAdmin Note: If you have any (news-related) updates on this case, please contact us here: amwfans.com/thread/1662/website-contact-form