Post by Scumhunter on Aug 5, 2021 23:57:15 GMT -5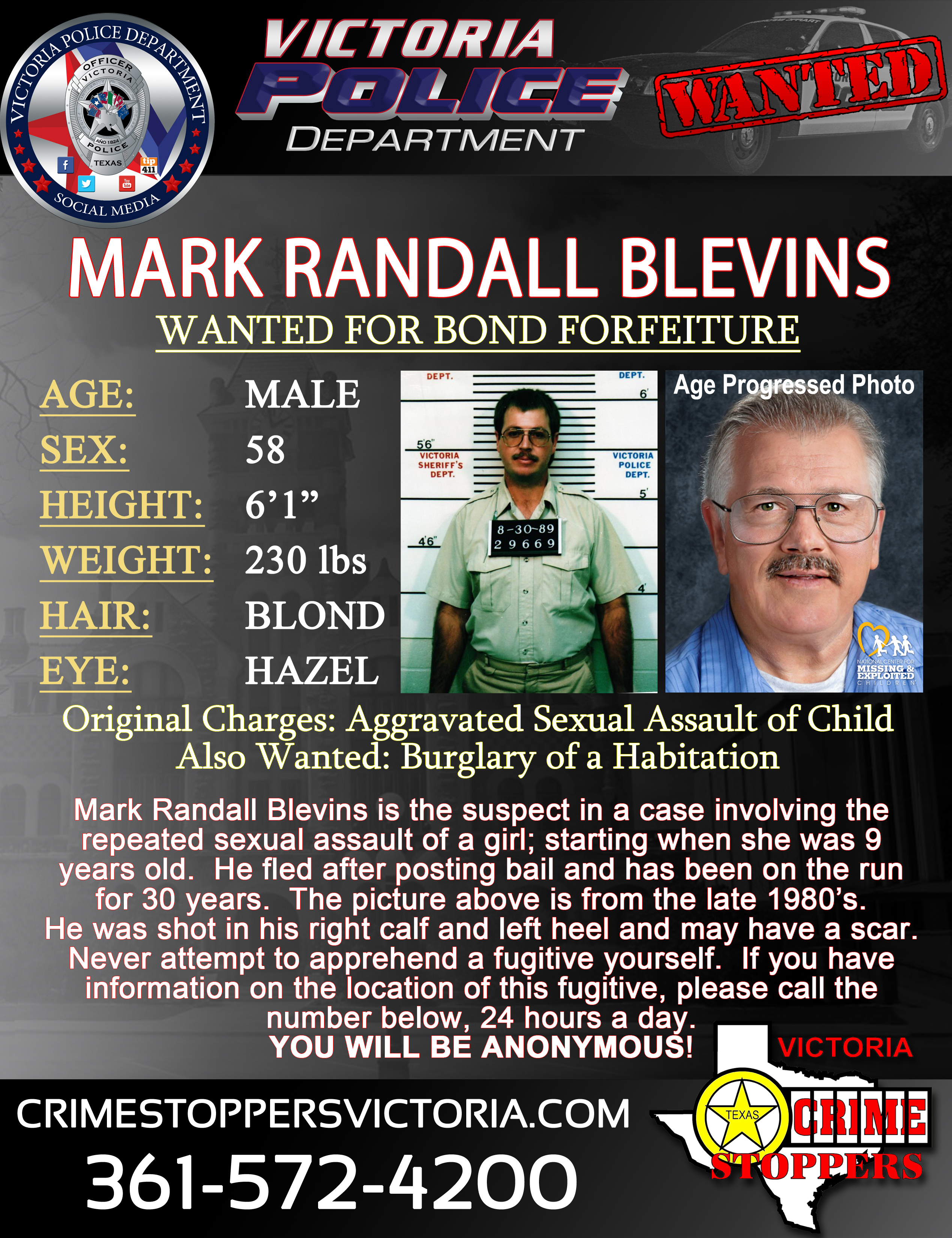 (Above photo credits: crimestoppersvictoria.com)
Fugitive Profile as of August 6th, 2021:
(Based on Victoria (Texas) Crime Stoppers
Name: Blevins, Mark Randall
Gender: Male
Race: Caucasian
Age (as of 8/6/2021): 58 years old
Height: 5ft11in
Weight: 210
Hair: Blonde
Eyes: Hazel
Scars, Marks, Tattoos: Gunshot scar on Right calf and Left heel
From crossroadstoday.com:
VICTORIA, Texas—-Victoria Crime Stoppers is looking for information regarding the location of Mark Randall Blevins.
Blevins is the suspect in an incident involving an aggravated sexual assault of a girl on multiple occasions; starting when she was 9 years old. Blevins was arrested for aggravated sexual assault of a child, but bonded out and fled. He has been "on the run" for more than 30 years.
Blevins has outstanding warrants for Bond Forfeiture – Aggravated Sexual Assault of a Child and for Burglary of a Habitation. Warrant #89913686 was issued 1/2/1990. He is now 58 years old, at the time the warrants were issued he was 5'11" and 210 lbs. with blond hair and hazel eyes. His hair is likely gray or graying and it is unknown if he wears facial hair. The National Center for Missing and Exploited Children produced an age progressed photo of Blevins depicting how he may look now.
In the 1980's, he was accidentally shot in his right calf and left heel and likely still bears a scar from this accident.
This fugitives may be armed and you should never attempt to apprehend a fugitive yourself.
If you have any information on the whereabouts of Mark Randall Blevins, please submit a tip to Victoria Crime Stoppers by calling 361-572-4200, using our app, or through our website, www.crimestoppersvictoria.com. All tips are anonymous and if you give information that leads to the arrest of Blevins, you could earn a cash reward!
www.crossroadstoday.com/victoria-crime-stoppers-are-asking-for-help-finding-this-fugitive/
Thoughts? As of this posting date (8/6/2021), Blevins is still listed as a wanted fugitive on Victoria Crime Stoppers. I am also placing him in the Fugitives on TV section since as we know based on articles, he will be profiled on the first episode of the upcoming Season 3 of In Pursuit with John Walsh. Articles reveal the victim was Blevins' own stepdaughter. I'll update the thread once he's officially added to the In Pursuit tip form.
www.crimestoppersvictoria.com/sitemenu.aspx?P=wanteds&ID=238

UPDATE: As of August 18th, 2021 anyone with information on this fugitive's whereabouts can also call or text "In Pursuit" on the Investigation Discovery channel at 833-378-7783 and/or submit a tip at the show's website: www.InPursuitTips.comAdmin Note: If you have any news-related updates on this case, please contact us here: amwfans.com/thread/1662/website-contact-form