Post by Scumhunter on Nov 5, 2014 8:09:42 GMT -5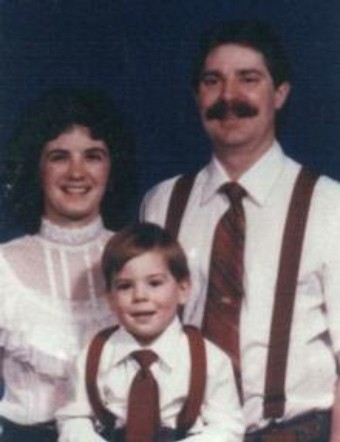 ST. LOUIS (AP) — More than a quarter century later, the grisly, unsolved slaughter of Joeann Dardeen's son, his pregnant wife and their young son in southern Illinois still haunts her.
Bludgeoned with a baseball bat along with her 3-year-old son, 30-year-old Ruby "Elaine" Dardeen gave birth during that 1987 attack in the family's home in the 2,500-resident village of Ina. The killer took no mercy on the newborn either, ending her life as quickly as it began. The household's patriarch, Russell "Keith" Dardeen, turned up dead the next day in a wheat field, his body mutilated.
No one has been brought to justice in the Jefferson County case where the most promising lead was Tommy Lynn Sells' claim he carried out the killings — among the as many as 70 he took credit for in various states as a drifter and carnival worker. Authorities ultimately linked him to nearly two dozen murders. But because of questions about the veracity of his supposed confession, the Dardeen murders were not among them.
The answer to the question of whether Sells killed the Dardeens or the family's killer is still on the loose is more elusive than ever. That's because Sells, at 49, went to his own death earlier this month in a Texas execution chamber for the 1999 stabbing death of an acquaintance's 13-year-old daughter.
Joeann Dardeen doesn't believe Sells was the one who wiped out her son's family. She dismisses Sells' claims that Keith Dardeen happened upon Sells at a gas station and invited him home for a three-way tryst with Dardeen's pregnant wife. Keith Dardeen, the lead singer at a tiny Baptist church where his wife played piano, was too protective of his family to entertain such a thing, his mother says.
"Tommy deserved to die for what he did, but I wanted him to stay alive until I know positively he didn't do it," Joeann Dardeen, a 76-year-old from Mount Carmel, Ill., told The Associated Press in a Friday telephone interview.
She sent police to check on her son's family at their home, 80 miles southeast of St. Louis, on Nov. 17, 1987, after Keith Dardeen failed to show up for work at a local water plant.
Authorities found Elaine Dardeen with her son and her newborn baby all dead and positioned on a waterbed. Hunters found Keith Dardeen's body the next day a mile away.
"The brutality of the crime was just extreme, so terrible and egregious," said Gary Duncan, the county's top prosecutor for 17 years until his 2008 retirement. "It was a constellation of really awful facts."
Suspects were scarce before Sells got busted in Texas for killing 13-year-old Kaylene Harris by stabbing her 16 times. Sells soon began confessing to killings elsewhere.
The Texas investigator who first arrested Sells in Harris' death said Sells often claimed he'd wake up in unfamiliar places and have blood on him. He said his tools of death ranged from guns and knives to an ice pick and his bare hands.
In claiming he was to blame for the Dardeen family's demise, Sells accurately described certain details of the massacre, some of which he could have gleaned from media accounts. When quizzed about details never made public about how Elaine Dardeen's body was found, Sells initially replied inaccurately, then blurted out the correct response. It's possible he merely deduced the right answer, Duncan said.
Sells also insisted he shot Keith Dardeen in a certain seat of the victim's car, but evidence disproved that.
"There was a lot of ambiguity" in his claims, Duncan said. "But there also was nothing about what he said that would make his guilt completely discountable."
Sells offered to be escorted back to Illinois to show where he hid key evidence, but, said Duncan, "it became clear Texas was not going to let him leave the state."
So the prosecutor was stymied, unwilling to pin Sells with the Ina killings based on a questionable confession and no physical evidence. He could have been the killer, Duncan said, but there's "a fair possibility that the actual killer may still be out there."
"It's that kind of case that will haunt everyone involved," he said. "There's just no end to that."
Thoughts? This case was aired on AMW on July 17, 1999, if not before or after as well. This is somewhat similar to the Adam Walsh case in that the suspect, Ottis Toole, knew certain details and confessed, but it couldn't be proven he was telling the truth until over a decade after his death. The one problem I have with Sells confession is that supposedly he invited Keith for a threesome. I agree with Joeanne there's no way a family man with a pregnant wife would do that. In my opinion, perhaps Sells did the killing but got inside the house in a different way, and for whatever reason wanted to smear the victim in his confession. An unsolved crime website has interesting theories on the case (although they call the case solved when it actually isn't officially). One is that they claim the killer showed remorse since the scene was staged and that the killings were personal since most baby killings are. Their conclusion may be a little controversial, but it is in one of the links below.
I personally am not sure what to think. Tommy Lynn Sells knew a lot of details and did correctly answer some details not made public, but it seems after some initial incorrect guessing. Sadly, we may never know who killed the Dardeens officially. But let's hope one day we do.
fwbusinesspress.com/fwbp/article/1/4924/News-Categories-Law/Texas-link-to-unsolved-Illinois-murder-haunts-investigators.aspx
www.unsolvedcrimes.com/dardeen.html
Admin Note #1: Based on crime location, our advice for anyone with information on this case would be to contact Jefferson County of Illinois Crime Stoppers (please let us know if there is a more appropriate point of contact): m.facebook.com/Jefferson-County-Crime-Stoppers-302349983160780/Admin Note #2: If you have any news-related updates on this case, please contact us here: amwfans.com/thread/1662/website-contact-form