Post by Scumhunter on Jun 19, 2020 0:47:49 GMT -5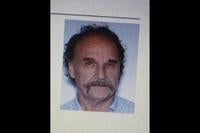 (Above photo credit: madison.com, click to enlarge)
From the Wisconsin State Journal (madison.com):
Authorities Thursday were still looking for a man who may be connected to a double homicide and arson investigation in Jefferson County.
While responding to a report of a possible burglary Tuesday evening, a sheriff's deputy found two bodies in the driveway of a town of Sumner home. The deputy was then fired upon from inside the house, and he shot back. Then black smoke started rising from the house.
The deputy was not injured, but the house was a "total loss," Jefferson County Sheriff's Office Chief Deputy Jeffrey Parker said Thursday. The home, located on Highway A near the intersection of Highway 106, and the surrounding area remained closed off.
The state Department of Justice's Division of Criminal Investigation, which is in charge of the investigation, is seeking the public's help in finding Kevin P. Anderson, 68, of Fort Atkinson.
Parker said anyone who sees Anderson should call 911 immediately with their location and not engage with Anderson.
"We ask them to be our eyes for us right now," Parker said.
Anderson is white, 6 feet tall and about 200 pounds, with blue eyes and balding brown hair, according to DCI.
Authorities have not said whether Anderson is a suspect. Parker declined to say whether Anderson was the person inside of the home or if he is considered dangerous.
Parker said there was no standoff between whoever had fired from the home and the SWAT teams that arrived on scene. By the time teams got there, "the incident was already over," and no more shots were exchanged, he said.
"We're talking about an incident that took place in a matter of seconds to minutes," Parker said.
The deputy was taken away from the scene, and a perimeter was established, Parker said. Meanwhile, the house "became engulfed in flames," he said.
The Fort Atkinson Fire Department, which responded to the incident, said its firefighters were staged about a mile away from the house but were not called to put out the fire because of the ongoing situation.
Parker declined to say why firefighters were not called to put out the fire once the incident was over. He also declined to say what happened to whomever had been inside the home.
The identities of the two people who died are not being released at this time, he said.
"The investigation is very active and fluid," Parker said. "We just can't give information out yet."
madison.com/wsj/news/local/crime-and-courts/man-still-sought-in-connection-with-jefferson-county-double-homicide-arson-investigation/article_8a891d14-394a-521a-a988-8f53fa5a4be3.html
Thoughts? Based on local online articles, Anderson was still being sought by authorities (although apparently not officially named a suspect) at least as of June 18th, 2020.
Update: As of October 6th, 2021, anyone with information on this fugitive's whereabouts can also can also call or text "In Pursuit" on the Investigation Discovery channel at 833-378-7783 and/or submit a tip at the show's website: www.InPursuitTips.comAdmin Note: If you have any (news-related) updates on this case, please contact us here: amwfans.com/thread/1662/website-contact-form