Post by Scumhunter on Mar 30, 2020 1:01:34 GMT -5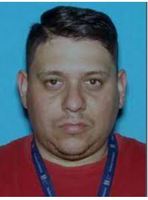 (Above photo credit: San Diego Union Tribune)
From NBC San Diego:
Chula Vista Police have released a picture of the man believed to have killed his wife in a domestic violence dispute Sunday in Chula Vista.
Police identified the suspect as 37-year-old Francisco Uriarte.
Uriarte is armed and dangerous, and on the run possibly in the San Diego area, police said. He was last seen wearing a black overcoat, shorts, flip-flops. He is 5-foot-9, weighs 190 pounds and has brown hair and brown eyes.
He is believed to have significant injuries to his hands and may seek medical attention, CVPD said.
Officers received a call from a neighbor Sunday claiming to have heard a woman scream at around 1:38 a.m. on the 500 block of Oxford Street.
Once officers arrived at the apartment complex, they found three children who said their mother and father had been in a physical fight, Chula Vista Police said.
The children also told officers that their dad had fled the scene and they believed he killed their mother during the fight, CVPD said.
Officers found the mother unresponsive and pronounced her dead at the scene, Chula Vista Police Sgt. Andrea Mayorga said.
The children were not harmed, Mayorga said, and the motive for the homicide was unknown.
The victim's name has not been released pending notification of her family, CVPD said. The investigation is ongoing.
Anyone who may have any information can contact San Diego County Crime Stoppers at 888-580-8477
No other information was available.
www.nbcsandiego.com/news/local/domestic-violence-call-leads-to-homicide-investigation-in-chula-vista/2295493/
Thoughts? Based on local area news reports, Uriarte was still at large at least as of March 29th, 2020. I do see him in San Diego online warrants search yet but I assume that is because this is a new case with the victim not being named publicly yet. I assume we should find out more should this unfortunately become an extended manhunt.
Admin Note: If you have any (news-related) updates on this case, please contact us here: amwfans.com/thread/1662/website-contact-form