Post by HeadMarshal on May 26, 2019 8:50:17 GMT -5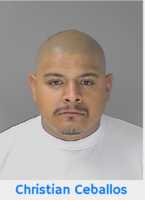 Photo Credits: Kern County Sheriff's Office
Vital Statistics
Race: White (Hispanic)
Sex: Male
Hair: Black
Eyes: Brown
Height: 508
Weight: 219
Age: 33 (As of May 26, 2019)
Date of Birth: 01/23/1986
---
Authorities in Bakersfield, California say that there was an ongoing feud between Christian Ceballos and 19-year old Angel Hernandez that started in the spring of 2011. This was all over an incident where Angel was trying to get Christian's brother out of his home one night, because the brother was intoxicated and causing trouble with Angel's friends. Afterwards, several attempts were made on Angel's life.
On November 3, 2011, authorities say Christian Ceballos went to Angel's home, fired a shot through the door, narrowing missing Angel's sister. Christian then allegedly went inside and up to Angel's home, where he is accused of shooting Angel to death.
Christian Ceballos has been at large ever since.
Based on crime location, it is advised to contact the Kern County Secret Witness program at 661-322-4040 or the Kern County Sheriff's Office at 661-861-3110 if you have any information on Christian Ceballos's whereabouts.

Moderator Note: If you have any (news-related) updates on this case, please contact us here: amwfans.com/thread/1662/website-contact-form


---

Thoughts? As of today, May 26, 2019, Christian Ceballos is one of Kern County's Most Wanted fugitives, and his murder case court record shows no arrest cade in the Kern County records, so he's still at large unfortunately.
Let's add this to our "unofficial stupidest murders hall of shame" as well. I don't care that your brother needed to be removed from someone else's home since he was drunk, that wasn't out of disrespect but out of respect to the other guests there. Cooler heads never prevailed on the Ceballos's side allegedly which is why we have to talk about this case.
www.kernsheriff.org/Wanted_Persons
www.bakersfield.com/news/grandmother-says-grandson-s-death-due-to-telling-friend-to/article_70e1d9a3-557f-5036-b590-ceb860f2060d.html
www.kern.courts.ca.gov/online_services/criminal_case_search
(Way to keep track of this case's status. Look for December 2011 case)