Post by HeadMarshal on Jul 6, 2013 15:07:53 GMT -5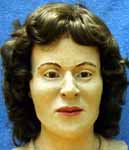 Authorities in Oklahoma have been trying to identify the remains of a murdered young woman for the past 25 years. Her case was aired on AMW back in the mid 90s as well as on AMW: Final Justice.
On May 7, 1988, a fisherman looking for a spot to fish came across the remains of a white female, 25-30 years of age near a dam. A 28-pound cement block was tied with a cable around her waist. In 1994, local authorities with the help of AMW exhumed her body to create a better composite sketch of what she looked like before death. Despite a distinctive tattoo, sweater and metal bands, she to date has never identified.
When AMW aired this case on Final Justice in late 95/early 96, authorities feared that the killer of Daisy Jane Doe was responsible for the murders of three other women found murdered off Oklahoma interstate highways between 1987 and 1994. None of these women were ever identified. I provide the links to Daisy Jane Doe and the other three women's profiles below.
Thoughts? I would be willing to guess that at least the first three homicides are linked because they were found between 1987-1990. The 1994 victim may also be linked. It's most likely that a truck driver serial killer is responsible. Whether he was arrested and convicted for another crime is unknown.
Admin Note #1: Daisy Jane Doe has now been identified as Jeanette Ellen Coleman. According to articles, anybody who has information about her life or her death, is encouraged to contact Cherokee County Undersheriff Jason Chennault at (918) 456-2583 or Oklahoma State Bureau of Investigation Agent Vicky Lyons at (918) 456-0653.Admin Note #2: If you have any news-related updates on this case, please contact us here: amwfans.com/thread/1662/website-contact-form
doenetwork.org/cases/28ufok.html
(Daisy Jane Doe, died five days earlier)
www.doenetwork.org/cases/249ufok.html
(Jane Doe found in 1987, died one month earlier)
www.doenetwork.org/cases/263ufok.html
(Jane Doe found in 1990, died between 1985-1989)
www.doenetwork.org/cases/722ufok.html
(Jane Doe found in 1994, died a few weeks earlier. Witness noticed a man dragging an object wrapped in a plastic bag near where the victim was found. The man was driving a Chevrolet Blazer with an Arkansas license plate.)
www.youtube.com/watch?v=CVXU1-oVEo0
(Final Justice profile)