Post by Scumhunter on Dec 27, 2015 8:48:59 GMT -5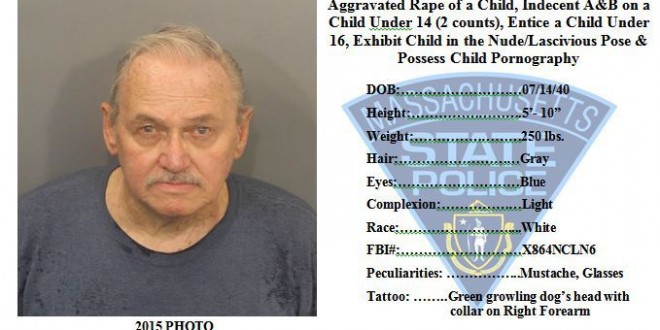 (Above photo credit: newbedfordguide.com)
FALL RIVER — A 75-year-old man used a "friendly, grandfather-like" act to get close to the child he is accused of raping this summer, State Police said. Now, he is on the state's Most Wanted list after fleeing the child rape charges.
State Police said John F. Munroe cut off his GPS monitoring device, which he was ordered to wear while awaiting trial, on or around Oct. 23. His car was later located in Hull, but authorities have not seen him since.
Massachusetts State Police Violent Fugitive Apprehension Section on Monday put out wanted posters on its website and social media, asking anyone who recognizes Munroe to contact police.
State Police investigators said that Munroe used his grandfatherly affect to gain the trust of a single parent. After several years, he was allowed to babysit the parent's daughter, who was under 10. Police said he allegedly raped and took pornographic photographs of her.
He faces charges of forcible rape of a child, aggravated rape of a child, two counts of indecent assault and battery on a child under 14, enticing a child under 16, exhibiting a child in the nude, and possessing child pornography.
"When Munroe was arrested for the above charges in September of 2015, a packed suitcase containing his belongings and a shotgun were located at his residence," State Police said.
A judge ordered Munroe to wear a GPS monitoring device, but the was intentionally removed on or about October 23, 2015. Warrants have been issued for his arrest.
Munroe is described as a white man, five-feet-10-inches tall, weighing about 250 lbs with gray hair and mustache and blue eyes. He has a tattoo on his right forearm of a green, growling dog's head with a collar.

Anyone with information about Munroe or who may have seen him is asked to call the Violent Fugitive Apprehension Section at 1-800-KAPTURE (1-800-527-8873).

Thoughts? What is it with these ankle monitors? If they're so technologically advanced, then why do people placed on house arrest with them keep escaping? I also want to add the official State Police site says Munroe allegedly raped the young girl on NUMEROUS occasions this past summer. I want to remind everyone of the case of Gregory Lewis. Lewis was also on the Massachusetts State Police Most Wanted list, accused of raping a 13-year old girl. He too was given an ankle monitor, cut it off, allegedly robbed and assaulted a family member, and then went on a cross-country crime spree where he allegedly sexually assaulted and robbed numerous prostitutes in multiple states. When he was finally caught, police said he had plans to eventually go back to Massachusetts and kill his 13-year old accuser. So the old saying goes fool me once.... and sorry for some rare all caps statements but... HOW MANY ALLEGED SERIAL AND/OR CHILD RAPISTS NEED TO CUT OFF THEIR ANKLE MONITORS BEFORE MASSACHUSETTS JUDGES REALIZE THOSE THINGS ARE USELESS? HOW MANY MORE FUGITIVES ACCUSED OF SEXUAL ASSAULTS NEED TO BE ADDED TO THE STATE POLICE MOST WANTED LIST BECAUSE THEY CUT OFF A FLAWED DEVICE? THIS GUY ALLEGEDLY HAD A SUITCASE AND A SHOTGUN WHEN FIRST ARRESTED... DIDN'T ANYBODY THINK HE WAS A FLIGHT RISK? If Munroe is suspected of harming any more children while out on the run, whatever moronic Judge decided the GPS was a good idea needs to be at least sued as well.
I'm also going to do a rare thing and link to an article somewhat unrelated to this case about how one Massachusetts Judge will no longer use ankle monitor because she realizes they're flawed. (At least one Judge in MA has common sense at least).
As far as possible whereabouts, not much discussed in articles, one says Munroe's vehicle was located in Hull, MA, but apparently there hasn't been many public leads since then.
www.masslive.com/news/index.ssf/2015/12/babysitter_accused_of_child_ra.html
www.mass.gov/eopss/docs/msp/wanted/active-john-munroe-wanted-poster-2-.pdf
boston.cbslocal.com/2015/04/23/i-team-mass-judge-says-gps-bracelets-are-flawed/

Admin Note: If you have any updated information on this case, please contact us here: amwfans.com/thread/1662/website-contact-form