Post by Scumhunter on Nov 13, 2015 9:39:46 GMT -5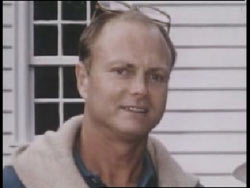 (Above photo credit: unsolved.com)
Fugitive Profile as of November 13th, 2015:
(based on Unsolved Mysteries website)
Gender: Male
DOB: 1933 approx.
Height:6'3"
Weight: 200 lbs.
Eyes: Blue
Hair: Blonde
TIPS: Anyone with any information on this case should contact the Unsolved Mysteries website: unsolved.com/content/tips
"Ellen Berry was a wealthy heiress in Knoxville, Tennessee. Her family were descendants of one of the first settlers to the area. During her retirement, she hired a caretaker named Dan Tondervald to take care of her. Berry and Tondervald became close, with Tondervald being so well-mannered he got along well with the Knoxville upper crust. Berry rewarded his dedication to her by spending over a million dollars to buy eight horses for him as he said he was a horse breeder. Tondervald kept the horses on her land, naming them all after Berry with slight variants. Friends of Berry were surprised by this generous gesture, but she claimed that that kind of money was insignificant to her. However, her trust in Tondervald was misplaced. When she returned home from a short vacation, she found her entire fortune had been depleted. She lost her home and livelihood as a result. When Tondervald was later found dead, there was no trace as to where her money had gone, plus there were rumors on whether or not he had faked his death to leave the area. People also speculated as to whether he was actually her long lost son, Hugh Berry, reported as deceased back in 1961. Hugh Berry had gotten along poorly with his mother, and had been arrested for an unrelated crime and was set to stand trial until he was reported dead from a knife fight gone wrong. It is possible Berry survived the fight and took advantage of his status as legally dead to reinvent himself as the dedicated and societally decent Dan Tondervald in order to ingratiate himself to his mother and steal what he saw as his rightful inheritance. He is 6'3", 200 pounds, has blue eyes, blond hair, and would today be in his late 70s or early 80s."
Thoughts? The above was the Unsolved Wikia description for the fugitive case of Daniel Tondervald, who was first aired on the December 4th, 1991 episode of Unsolved Mysteries. Obviously even if not the dead body he may be deceased by now, but the mystery is still intriguing. Was Tondervald really Berry's long-lost son?
unsolved.com/archives/daniel-tondevold
unsolvedmysteries.wikia.com/wiki/Dan_Tondervald
(UPDATE: As of July 26th, 2018, Unsolved Mysteries Wiki still mentions Tondervald as "Results: Wanted"

Admin Note: If you have any news-related updates on this case, please contact us here: amwfans.com/thread/1662/website-contact-form