Post by Scumhunter on May 3, 2019 0:13:55 GMT -5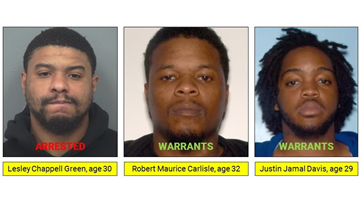 (Above: Three suspects in a double homicide in Gwinnett County, Georgia. Leroy Green (left) and Robert Maurice Carlisle (middle) have been apprehended. However, Justin Jamal Davis (Right) was still at large as of May 17th, 2019. Photo Credits: 11alive.com)
From 11alive.com:
LAWRENCEVILLE, Ga. — The FBI is now offering a reward for information that could lead to a man connected to the deaths of two Athens men whose bodies were found in a storage unit back in March.
Derrick Ruff and Joshua Jackson had been missing for months before they were discovered dead from multiple gunshot wounds at Extra Space Storage in Gwinnett County on March 17. They were apparently murdered inside the unit, police said.
The men went missing just days before Christmas.
Both men were fathers to baby girls, and their families spoke of the devastating hole their deaths would leave.
"He meant everything to the family," Jackson's father Gerald said in March.
The FBI announced Thursday it was offering a $2,500 reward for information leading to the arrest of one of the two suspects in the murders, 32-year-old Robert Carlisle, also known as "Different." He is wanted as a fugitive by federal authorities, and has been charged with concealing the death of another in the deaths of Ruff and Jackson.
The other original suspect in the case, 30-year-old Lesley Green, is in custody.
A third, 29-year-old Justin Jamal Davis, was announced in late March. He remains at large. A fourth, Shabbazz Larry Guidry, 24, was arrested in April.
Police were led to Ruff's and Jackson's bodies after wiretapped phone calls revealed Green and Carlisle talking about disposing of the bodies.
Carlisle referred to the bodies as "spoiled milk" and that he "needed to contact the janitor to clean it up," an arrest warrant said.
Police said there was no apparent tie between the victims and the suspects, though they said they believed the murders were linked through Green and Carlisle to the Gangster Disciples --a gang considered extremely violent and highly sophisticated by authorities.
The FBI said Carlisle is known to hang around Lithonia, Stone Mountain and Decatur, and should be considered armed and dangerous.
He is described by the FBI as 5 feet 10 inches tall, 170 pounds, with black hair and brown eyes.
The bureau is asking anyone with information on Carlisle whereabouts to contact its Atlanta office at 770-216-3000.
www.11alive.com/mobile/article/news/crime/2500-reward-offer-for-fugitive-suspected-in-deaths-of-athens-men-found-dead-in-storage-unit/85-0e7e5a66-ec73-4070-ac8d-6fe97fcdf437
Additional article on this case:
www.11alive.com/mobile/article/news/crime/gwinnett-storage-unit-double-murder-investigation-leads-to-3rd-suspect/85-f4db97e0-1bcd-4763-a4fb-7c389f08ce44
Thoughts? I'm assuming you can call the FBI Atlanta office with information on Davis' whereabouts as well but just in case, the second article mentions anyone with information on this case can also call call detectives at 770-513-5300 or, to remain anonymous, call Crime Stoppers at 404-577-8477 (TIPS).
Also, the above article confirms Carlisle and Davis as still at least as of May 2nd, 2019 but just to keep track of their wanted status, there has been no court movements in Gwinnett County's online records search since March of 2019 as of the aforementioned still at large date:
www.gwinnettcourts.com/casesearch/casedetail.aspx?wj446u3LO6mBnTkupI8j7g
It should also be noted neither defendant is charged with murder. Carlisle's charges are mostly involving concealing a death while Davis' records charge is "conspiracy" but obviously both need to be located to discover what their alleged roles were if they were indeed involved in this very gruesome double homicide.
**********UPDATE***********
On Thursday, May 16th, 2019, Robert Carlisle was taken into custody in Stone Mountain, Georgia. As of May 17th, 2019, Justin Davis is the only fugitive still at large in this case
**********UPDATE**********Admin Note: If you have any (news-related) updates on this case, please contact us here: amwfans.com/thread/1662/website-contact-form