Post by Scumhunter on May 28, 2017 3:29:22 GMT -5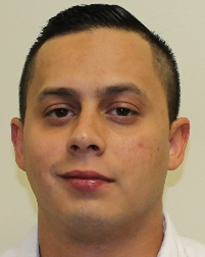 (Above photo credit: ice.gov)
From wjhl.com:
WASHINGTON COUNTY, TN (WJHL) – Investigators with the Washington County Sheriff's Office are searching for 30-year-old Alan Jacob Mogollon-Anaya, a man accused in a drunk driving crash that killed a Tri-Cities woman in March.
The crash happened March 16 in the 600 block of Conklin Road in Jonesborough. 37-year-old Shirra Branum was killed and her nine-year-old son Randy was hurt but is now okay. Mogollon-Anaya's three children were also injured.
Mogollon-Anaya is now wanted on charges of Vehicular Homicide by Intoxication, Three counts of Aggravated Child Abuse and Neglect, Aggravated Assault, Driving under the Influence fourth offense, Driving Left of Center, and Violation of Probation.
Washington County Sheriff Ed Graybeal said Mogollon-Anaya's vehicle was about a foot to foot and a half across the center line.
Mogollon-Anaya's signed a consent form for his blood to be taken at the hospital the evening of the crash. His blood samples were submitted to the TBI lab for a Blood Alcohol Content test, the results were returned April 4th. At the time of the crash his blood alcohol content was two times over the legal limit.
Investigators also said he was not a legal United States resident but had temporary paperwork from United States Immigration and Customs Enforcement while out on bond, awaiting a hearing for a work visa.
"He was on bond from ICE (Immigration and Customs Enforcement), I think it was $15,000 bond and they gave him temporary work visa and a temporary social security card," Sheriff Graybeal said.
News Channel 11 asked Sheriff Graybeal why there wasn't an arrest made at the time of the crash.
"You have to have a blood alcohol and more than just substantial probable cause and we wanted to make sure that we had all of our ducks in a row when you're dealing with a fatality. We want to make sure we do it right for the person who is deceased and all of the family members, if we don't, it doesn't do us any good to put the case together," Sheriff Graybeal said.
Monday night, Shirra Branum's parents and family were still grieving the loss of their family member, questioning why it took so long to charge a person in her death.
"I wake up every morning with a knot in my stomach thinking, she's gone," Shirra's mother, Cindy Scalf said.
Cindy and her husband Hugh were frustrated with the news that Mogollon-Anaya was nowhere to be found following charges in the case.
"I said here's what's going to happen, y'all are going to come to me and say we have charges for this, this, this and this but we can't locate him," Hugh Scalf said.
Hugh added that when there's a death, especially with someone that isn't from the United States, the TBI should push that case forward and get it taken care of.
Sheriff Graybeal said you can't arrest anybody just on what you have at the scene, until you get blood alcohol results back.
"We followed all the procedures, met with District Attorney Tony Clark, the DA's office was a great help, we met with them twice," Sheriff Graybeal said.
Investigators said deputies began searching for Mogollon-Anaya after the crash but they just missed him at the time. Sheriff Graybeal said he believes Mogollon-Anaya is avoiding prosecution. Graybeal said Mogollon-Anaya has a distinctive tattoo on his left arm.
"A lot of people can hide a lot of things but they can't hide a tattoo like that," Sheriff Graybeal said.
Sheriff Graybeal said they have all the pieces and parts in place and now they just need to find Mogollon-Anaya.
Shirra Branum's family said the past few weeks have been very difficult and they're looking for answers. "I just want justice for my daughter and my grandchildren, my grandson that was in that wreck with her is torn to pieces," Cindy Scalf said.
The Washington County Sheriff's Office is working with the Tennessee Bureau of Investigation, the Department of Homeland Security and Border Patrol to bring Mogollon-Anaya into custody.
If you see Alan Mogollon-Anaya or have any information on his whereabouts, you're urged to call the Washington County, Tennessee Sheriff's Office at 423-788-1414, or local law enforcement in your area.
wjhl.com/2017/04/11/wcso-asking-for-help-to-find-man-charged-in-deadly-crash-family-desperate-for-justice/
Thoughts? This unfortunately sounds like the Chris Ponce case all over again. There are a couple of additional notes I'll place in top of our usual admin note.
-Shirra Branum's parents have put up a $2,000 reward for Mogollon-Anaya's arrest:
www.johnsoncitypress.com/law-enforcement/2017/05/01/Parents-to-Shirra-Branum-to-offer-2-000-reward-for-tip-leading-arrest-of-daughter-s-killer
-Mogollon-Anaya reportedly sent messages to his family members to make authorities think he was in Mexico, but authorities at least last month believed he was still in the U.S. Mogollon-Anaya has relatives in Louisiana and the Kenner Louisiana police department has contacted Tennessee authorities:
wjhl.com/2017/04/10/wcso-seeks-man-charged-in-deadly-jonesborough-crash/
-I still see no articles as of this posting date (5/28/2017) with any updates on an arrest, so I am assuming Mogollon-Anaya is still at large as of May 28th, 2017. If there are any updates, please feel free to let us know.
Admin Note: If you have any (news-related) updates on this case, please contact us here: amwfans.com/thread/1662/website-contact-form