Post by Scumhunter on Apr 22, 2017 23:59:37 GMT -5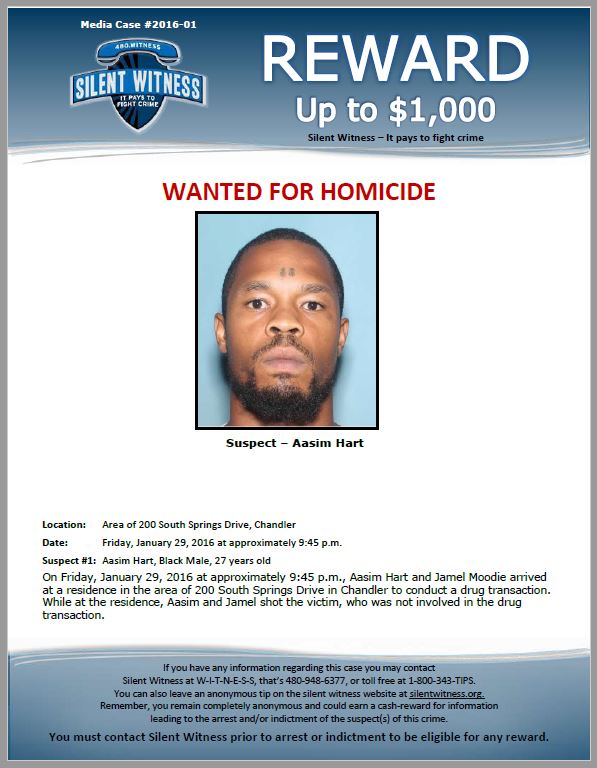 (Above photo credits: 12news.com)
From 12news.com:
Name: Aasim Charles Hart
Description: Black male, 28 years old, 5-foot-9, weighing around 176 pounds with brown eyes, black hair with dollar sign tattoos on his forehead.
Name: Jamel Antonio Moodie
Description: Black male, 27 years old, 5-foot-11, weighing around 215 pounds with brown eyes, black hair.
These suspects are considered armed and dangerous.
Last seen: Jan. 29, 2016
Wanted for: First-degree murder of 27-year old Aaron Yaw on Jan. 29, 2016 at around 9:45 p.m. at 256 South Springs Drive in Chandler.
Chandler Police Homicide Det. Cassandra Ynclan is a 16-year veteran of the force assigned to the Robbery/Homicide Unit and is the lead investigator on this case. She says Aaron Yaw was home the night of Jan. 29, 2016. His roommate, Bayrd Goudeau, 23, and another man had arranged to sell some marijuana to a couple men.
Aasim Hart and Jamel Moodie showed up at the house with the unnamed third party. Det. Ynclan says at some point Hart and Moodie told the third party to go, "get out of the house." Ynclan says Goudeau went into his bedroom to retrieve a few things and could hear his roommate Aaron Yaw, "basically saying, you know, 'I don't have anything to do with this.'"
Ynclan says when Goudeau looked out his bedroom, he could see Yaw sitting on the couch holding his hands up and a man standing in front of him with a gun. Goudeau witnessed Yaw's murder and apparently armed himself, firing several shots at Hart and Moodie as they ran out the front door. That third party, as he was leaving, later told detectives he heard gunshots. Yaw was shot in the head and died instantly.
Chandler police say Yaw's family is close-knit and described him as very easy to get along with, "kind of happy go-lucky." Yaw was a longtime employee of 84 Lumber, working as a hot shot delivery driver. Det. Ynclan says he "maybe had some friends that did stuff they probably shouldn't have done." Yaw was not involved in the drug transaction, Ynclan says, and he did not know any of the players who came to his house who were let in.
Goudeau left the scene and on a 911 call that night, a neighbor described him as a drug dealer and said he ran out of the house with a rifle and possibly a BB gun. The neighbor said Goudeau went back inside and then came out again and was seen with his head down "crying on the hood of his SUV," saying "Why did you do it?" out loud to himself. Goudeau was arrested the following day and is charged with a laundry list of crimes including felony murder even though he did not directly kill Yaw. His alleged actions in the commission of a felony crime led to Yaw's death, and under the felony murder law, he is charged with murder. Det. Ynclan says there's quite a bit of physical evidence from the scene that supports Goudeau's witness testimony about what really happened inside the house.
Detective Ynclan believes Hart and Moodie intended to rob the victims as opposed to buying marijuana from Goudeau but Yaw was in the way so he was "executed."
"They executed an innocent man on his couch and then fled with nothing," the detective said.
Hart and Moodie have lengthy criminal records for drugs, forgery, theft and other crimes. Both committed an armed robbery together on Jan. 14, 2010 in Maricopa County and were sent to prison. Hart was released from the state prison in Kingman on April 15, 2014. Moodie was sent to the Lewis prison in Buckeye and was released on Jan. 14, 2015.
At the time of Aaron Yaw's murder, Aasim Hart was living in Mesa and Jamel Moodie was living in Gilbert near the Mesa border.
Det. Ynclan says Hart and Moodie have family in Mesa and Gilbert, some of whom communicated with them shortly after Yaw's murder and even helped them with their flight from justice. She also says they have lots of friends and associates who likely know where they are and how to find them. But so far, police have received no cooperation.
What they do have is evidence in the case that they are "very satisfied" shows they have the right suspects.
"I have absolutely no doubt these are the two (Hart and Moodie) that are responsible for the homicide," said Ynclan.
Still, even with solid evidence, more than a year has passed since Aaron Yaw was killed in cold blood and his alleged killers are nowhere to be found.
"What happened that night was absolutely inexcusable and Aaron's family deserves to know that we've located everyone in the case, that they're going to be held accountable for what they did," says Ynclan. "The victim's family and friends will never be able to at least, try to come to some sort of closure and resolution with this as long as these two are running. And that's what they're doing -- they're running."
Aaron Yaw's family provided this photo of their son to 12 News. They live out of state and the picture was taken during one of his visits with them. They are heartbroken.
"We are in hopes that the people responsible for the death of our beautiful son Aaron will be apprehended soon! He is dearly missed. The culprits are still at large and any thing I can do to bring them to justice....is well served."
Det. Ynclan is hoping anyone with information on either one of the suspects, even if you think it's insignificant, to please call the Chandler Police Department at (480) 782-4130 to help them locate Hart and Moodie. What's more, Ynclan says, if you wish, you can remain anonymous when calling the Chandler Police Department.

You can also call Silent Witness at (480) WITNESS (948-6377) and remain anonymous there as well. Silent Witness is offering a $3,000 reward for information that leads to the arrest or indictment of these suspects.
www.12news.com/mb/news/local/valley/arizonas-most-wanted-aasim-hart-and-jamel-moodie/421643811
Thoughts?
UPDATE:
Jamel Moodie was booked into a Maricopa County jail on March 15th, 2018. As of this update (December 28th, 2018), Aasim Hart is still listed on Arizona's Silent Witness website as a wanted fugitive[
Admin Note: If you have any (news-related) updates on this case, please contact us here: amwfans.com/thread/1662/website-contact-form