Post by Scumhunter on Oct 10, 2015 23:12:54 GMT -5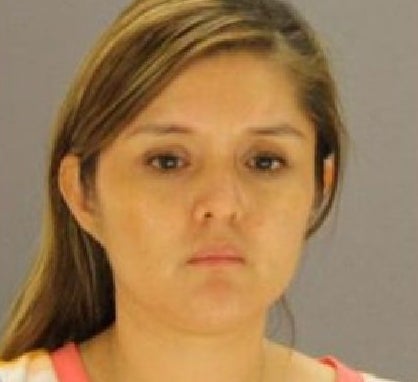 (Above photo credit: Huffington Post)

Fugitive Profile as of February 25th, 2016:
(Based on FBI.Gov wanted poster)
Alias:
Brenda Berenice Delgado Reynaga (true name)
Date(s) of Birth Used:
June 18, 1982
Place of Birth:
Mexico
Height:
5'5"
Weight:
145 pounds
Occupation:
Dental hygiene student
Hair:
Black
Eyes:
Brown
Sex:
Female
Race:
White (Hispanic)
Nationality:
Mexican
Scars and Marks:
Delgado has a butterfly tattoo on her lower back (small of her back).
Remarks:
Delgado has ties to Texas and Mexico.
TIPS: If you have any information concerning this person, please contact your local FBI office or the nearest American Embassy or Consulate. You can also call the FBI's toll free tip line at 1-800-CALL-FBI.
Texas authorities have issued a murder warrant for a woman who allegedly orchestrated the slaying of a 35-year-old children's dentist, Dr. Kendra Hatcher.
Police are looking for 33-year-old Brenda Delgado of Dallas, who had previously dated Hatcher's boyfriend, Ricardo Paniagua, and is accused of hiring a hitman to kill Hatcher out of jealousy. According to court documents, Delgado "ended a two-year relationship" with Paniagua earlier this year.
Dallas police Maj. Max Geron told reporters at a Friday press conference that Delgado "was involved in the planning and the commission" of Hatcher's slaying, which was allegedly carried out with the participation of at least two other people. He called the crime a "murder for hire."
Hatcher was shot and killed on Sept. 2 in the parking garage of her upscale Dallas apartment. Her body was found next to her white Toyota Camry. Investigators found a single .40-caliber shell casing on her passenger seat, police said.
Delgado, a dental hygiene student at Sanford-Brown College, was allegedly jealous of Hatcher's relationship with Paniagua, and told friends she was upset that the couple had recently taken a trip to California to meet Paniagua's parents, Dallasnews.com reported.
Court documents obtained by CBS 11 News further allege Delgado used an iPhone to track Hatcher's movements on the day of her slaying.
On Friday, police also announced the arrest of 31-year-old Kristopher Love, the man Delgado allegedly hired to kill Hatcher.
Love has been charged with capital murder and unlawful possession of a firearm by a felon, and is suspected of being the triggerman in Hatcher's death. At the time of his arrest, Love had the suspected murder weapon in his possession, police said.
Love's girlfriend, Merika Swint, told Fox 4 News she was stunned by the news of his arrest.
"I make plenty of money," she said. "I can't see him being hired for a hitman to take someone's life."
Love has "admitted to his role" in Hatcher's slaying, police said. He is being held at the Dallas County Jail on $2.5 million bond. Jail records do not list an attorney for him.
He joins 23-year-old Crystal Cortes, an unemployed dental assistant, who was arrested shortly after Hatcher's death for her role in the crime. Cortes allegedly told detectives she was offered $500 to drive Love to the parking garage.
Using video surveillance footage from the garage to identify those involved in the killing, authorities found Cortes within days and charged her with capital murder. She is also being held in the Dallas County Jail in lieu of a $500,000 bond. Her attorney, George Ashford III, told Fox News that Cortes thought the plan was to rob Hatcher, not kill her.
Hatcher's family released a statement on Sunday, thanking police for their hard work and persistence.
"Kendra loved Dallas, and we thank the community for providing information that aided in the progression of the case," the statement read. "We grieve the loss of Kendra: doctor, daughter, sister, aunt, Godmother, and friend. And now we can have more closure with these answers. We ask the community to continue helping until this case is complete."
Police have yet to officially charge Delgado, and she remains a fugitive.
Thoughts? This to me is one of the most cold-blooded murders I've ever read about, male or female. Even more outrageous is the motive is likely jealousy. This woman needs to be jailed and held accountable if proven guilty. Then she can be jealous of every woman who actually gets to see the light of day.
As far as speculating on whereabouts, obviously Mexico has to be considered in my opinion, considering this case has sparked a bit of media attention as well.
www.huffingtonpost.com/entry/kendra-hatcher-murder-brenda-delgado_5612b644e4b0dd85030cc3f5
www.cbsnews.com/news/documents-4th-person-involved-in-dallas-dentist-murder-plot/

**********************UPDATE***************
On Wednesday, April 6th, 2016, Brenda Delgado was added to the FBI's Top 10 Most Wanted Fugitives list:
www.fbi.gov/wanted/topten/brenda-delgado/view

*********************UPDATE****************Admin Note: If you have any updated information on this case, please contact us here: amwfans.com/thread/1662/website-contact-form