Post by Scumhunter on Apr 1, 2015 8:56:32 GMT -5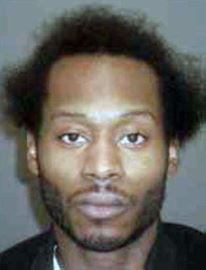 Police have arrested one of two brothers wanted on first-degree murder charges in the death of 17-year-old Trevor Seraphine outside an Etobicoke apartment building 10 days ago.
Curtis Murray, 25, was arrested by the Provincial Repeat Offender Parole Enforcement unit in Mississauga yesterday at 5:45 p.m., just hours after police held a news conference to announce that warrants for he and his brother, 29-year-old Corey Murray, had been issued in connection with Seraphine's March 21 shooting death. At Monday afternoon's media briefing at 23 Division, Homicide Det. Tam Bui said that Seraphine – a recent immigrant from St. Lucia – was shot down outside of 44 Willowridge Dr. at around 2 a.m. while simply walking from one friend's home to another after a night of playing video games.
"I can tell you his only mistake...was walking from one apartment where a friend lived to another, while there was these two predators in the parking lot," Bui said.
Officers responded to the scene that night after receiving reports of shots fired outside the building, and found the slightly-built teen with apparent gunshot wounds. He was rushed to the hospital with life-threatening injuries, but pronounced shortly thereafter.
Bui said Seraphine had no criminal history, nor any ties to gangs or his alleged killers.
"We have not been able to form any connection whatsoever between these two offenders and Trevor," he added. "These are 29-year-old hardened criminals that have done federal jail time, and Trevor was a 17-year-old kid. He was a boy."
Bui described Curtis Murray, who has since been arrested, as a Brampton resident with a long criminal record for assault with a weapon, sexual assault, extortion, possession of property obtained by crime, theft under, robbery, assault and fail to comply. He was on a community sentence order for a recent conviction out of the Brampton courthouse at the time of his arrest.
His brother Corey Murray, meanwhile, is a federal inmate parolee wanted on a both a parole violation and on various warrants from the Peel Region Police, who has been "on the lam" since March 2014, Bui said.
At the time of the press conference, Bui said police had received "credible information" that both murder suspects might be attempting to flee the country.
"I am urging the community not to assist these two from fleeing prosecution by providing Corey with a false passport," Bui said, noting that while police had confirmed that Curtis Murray possessed an active Canadian passport, Corey Murray, a federal parolee, does not have one.
"Anyone who we do learn assists, harbours, or conceals these two fugitives will be charged as an accessory after the fact to murder – a criminal offence. Today officers from the Gang and Gun Taskforce, as well as 23 Division Major Crime, did arrest two adults with this very charge."
Bui said police partners at Canada Border Services Agency (CBSA), airports, airlines and border crossings have all been notified to stay on the lookout for the Murray brothers.
In addition to information about the Murray brothers' current whereabouts, investigators are also still appealing to the public to come forward with any items purchased at a Block Sale that took place at 44 Willowridge Dr. on March 20 – items Bui said are now considered evidence in Seraphine's murder.
"The items that were sold are material in the overall narrative of the homicide – why it occurred, what lead up to it, the events that transpired over several days," Bui said, declining to comment further.
Anyone who comes forward with items, Bui assured, will not be in any trouble: "You will not face any criminal charges; you will only be assisting Trevor's family."
23 Division Supt. Ron Taverner said the Seraphine family have also launched a GoFundMe campaign in an attempt to raise the necessary funds to fly Seraphine's mother and father to Toronto from St. Lucia for their son's funeral.
"We're appealing to the public to assist in bringing the family to help the situation," he said in a short statement, which also thanked members of the community for their assistance with the investigation into Seraphine's murder.
"The community has come forward to support this investigation, which we don't find in a lot of cases. In this particular case, we wouldn't be here today if the community didn't step forward and help us."
Corey Murray is described as black, 5'8", 157 pounds, with black hair and brown eyes.

Anyone with information about his whereabouts is asked to contact police at 416-808-7400, or Crime Stoppers anonymously at 416-222-TIPS (8477), online at www.222tips.com, text TOR or your message to CRIMES (274637).



www.insidetoronto.com/news-story/5533482-curtis-murray-arrested-charged-with-first-degree-murder-in-trevor-seraphine-s-death/