Post by HeadMarshal on Aug 18, 2021 10:16:48 GMT -5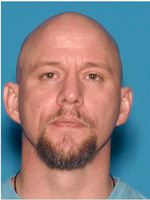 Photo Credits: Idaho Sex Offender Registry Website
Vital Statistics (Also provided by Idaho Sex Offender Registry Website)
DOB: Oct 22, 1972
Current Age: 48 (As of August 18, 2021)
Height: 6'2
Weight: 175 lbs
Hair: Unknown/Bald
Eyes: Green
POB: Utah
UPDATE from site admin: As of September 1st, 2021, anyone with information on this fugitive's whereabouts can also call or text "In Pursuit" on the Investigation Discovery channel at 833-378-7783 and/or submit a tip at the show's website: www.InPursuitTips.com
The following is from a 2013 press release by the US Department of Justice.
BOISE – William N. Brockbrader, 40, of Garden Valley, Idaho, was sentenced today in United States District Court to 30 months in prison followed by ten years of supervised release for failing to register as a sex offender, U.S. Attorney Wendy J. Olson announced. Chief U.S. District Judge B. Lynn Winmill also ordered Brockbrader to pay a $10,000 fine.
Brockbrader was convicted by a federal jury in Boise on December 5, 2012, following a three day trial. The jury heard evidence that Brockbrader was convicted in 1998 of three sexual offenses against a minor. He was serving in the United States Navy when he committed the offenses. After serving three years in prison, Brockbrader was paroled in Utah in 2001. Although he initially registered as a sex offender in Utah, Brockbrader failed to update his registration status when he moved to Nevada in early 2009. Brockbrader was arrested during a traffic stop in Nevada in April 2011, and it was determined that he was a sex offender who had failed to register. Brockbrader completed his registration under protest while he was in jail and was released. He left Nevada in early 2012 and moved to Garden Valley. Brockbrader was non-compliant with his Nevada registration requirements at the time he left the state and failed to notify Nevada or Utah authorities that he had moved to Idaho. Brockbrader subsequently failed to register as a sex offender in Idaho. United States Marshals arrested him on May 15, 2012.
The case was investigated by the Sex Offender Watch Task Force in Southern Idaho and the United States Marshals Service, with assistance by the Nevada Department of Public Safety, Nevada Attorney General's Office, and the Utah Sex Offender Registry.
--
Since that sentence, William Brockbrader has become a non-compliant sex offender. The last verification date of his registry was on November 5, 2014, according to the Idaho Sex Offender Registry site. I'm concluding that he became a fugitive in 2014, hence why 2014 was put in the thread title.
Additionally, it should be noted that Brockbrader has been notorious for "claiming to be a Navy Seal with psychic abilities". Sadly there are numerous supporters online who seem to be supporting this convicted sex offender, even though official Navy records confirm that Brockbrader was never part of that service.
Moderator Note: If you have any (news-related) updates on this case, please contact us here: amwfans.com/thread/1662/website-contact-form
---
Thoughts? As of today, August 18, 2021, William Brockbrader is confirmed to still be a fugitive because of an online episode listing for upcoming episodes of In Pursuit. Zap2it.com mentions that he will be Callahan's case on the September 1, 2021 episode.
-
tvlistings.zap2it.com/overview.html?programSeriesId=SH02986595&tmsId=SH029865950000&from=TVGrid&aid=gapzap
-
www.isp.idaho.gov/sor_id/SOR?id=27350&sz=1280
-
www.wtkr.com/2012/05/31/newschannel-3-investigation-man-claims-to-be-navy-seal-with-psychic-abilities/
-
www.justice.gov/usao-id/pr/garden-valley-man-sentenced-30-months-prison-failing-register-sex-offender