Post by TheWebDetective on Aug 15, 2019 14:33:31 GMT -5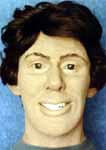 Garvin County Jane Doe ​ is a deceased female between 21 and 35 whose body was discovered in a creek bed near Paoli, Oklahoma in 1987. Her case was part of a roll call in a segment dealing with Jeanette Coleman (formerly Daisy Jane Doe) in 1995.
Characteristics
She had brown, possibly graying, hair and her eye color could not be determined. There were some unique physical features that may aid in the identification of this Jane Doe.
​Spinal Curvature
A condition called kyphoscoliosis affected her spine. Kyphoscoliosis causes an abnormal curvature in the spine that may cause a hunched appearance, uneven arms or legs, or an abnormal gait. Because her condition was termed to be mild, she may have only appeared to walk abnormally or complain of back pain during life. It is possible she was unaware she had this condition.
TMJ Misalignment
The victim had a unique dental condition, possibly temporomandibular joint disorder (TMJ). There was evidence she had seen at least 2 dentists, and one of these dentists was possibly a new graduate at the time. A TMJ misalignment causes pain around the face and jaw, difficulty chewing, and unevenness when biting. She likely would have complained about these symptoms while alive. Furthermore, the
misalignment of her jaw may have been visually obvious, and was replicated in one facial reconstruction.
​Personal Items
Several items discovered near the body may have belonged to the victim:
-Top - Blue "Camp Beverly Hills" sweat shirt with pink and white stripes.
-Bra - Size 38-40 D
-Socks - White with blue and red stripes around the top, ankle-high
Thoughts? I'm creating a thread for the three does mentioned in the rollcall during the segment dealing with Jeanette Coleman (formerly Daisy Jane Doe). AMW presented a theory that a serial killer may be involved.
If you have any information concerning this case, please contact the Garvin County, OK Sheriff's Department, the Paoli, OK Police or your local or preferred crime stopping agency:

garvincountysheriff.net/
www.policeone.com/Police-Departments/Paoli-Police-Dept-Paoli-OK/
unidentified.wikia.org/wiki/Garvin_County_Jane_Doe_(1987)
www.doenetwork.org/cases/249ufok.html
www.namus.gov/UnidentifiedPersons/Case#/5054
crimewatchers.net/forum/index.php?threads/garvin-county-jane-doe-wf-21-35-found-near-paoli-ok-24-june-1987.7968/
okmysteries.wordpress.com/2017/06/03/unsolved-the-murder-of-garvin-county-jane-doe/
www.facebook.com/GarvinCountyJaneDoe
Admin Note: If you have any (news-related) updates on this case, please contact us here: amwfans.com/thread/1662/website-contact-form