Post by Scumhunter on Feb 2, 2019 5:53:17 GMT -5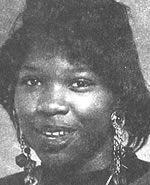 (Above photo credit: tbnweekly.com)
From the TBN Weekly (tbnweekly.com):
CLEARWATER — Every homicide pulls at the hearts of investigators, but the senseless death of Melanie Warren burns especially deep in their guts.
"She had such a bright future," said Sgt. Mike Hasty with the Clearwater Police Department's homicide investigation unit. "This is beyond a tragedy."
Worse yet, Hasty worries that people who know who killed her remain afraid to talk despite the case being nearly 27 years old.
"What I fear is that the no-snitch mentality results in the murder of a 15-year-old going unsolved," he said. "People are in self-preservation mode."
The vibrant and talented teen died on Memorial Day of 1992, the victim of a drive-by shooting at 1012 Jones St. She was sitting on a screened-in front porch shortly after dark when a car pulled up and sprayed bullets at the house. One struck her in the head.
"She was an honor student and was likely to be playing varsity basketball the next school year as only a freshman," Hasty said of Warren, who grew up in Clearwater's North Greenwood neighborhood but had since moved to Tarpon Springs. "It was the ultimate case of being in the wrong place at the wrong time."
Clearwater, however, remained her stomping grounds in part to a boyfriend who was eight years her senior. And he was known to be involved in drugs.
"Needless to say, none of that sat well with her parents," Hasty said.
The day she died, Warren spent time bicycling with the boyfriend on the Pinellas Trail in Clearwater, later going to his house to wait for a ride home. Then the bullets began to fly.
"It was known as a drug house," Hasty said, "and the theory is that the shooting was drug related. Maybe it was a rival dealer, or maybe someone who felt they were ripped off – that they didn't get the right drugs or the right amount."
Bullet casings were found in the roadway and projectiles were removed from the front of the house, all becoming evidence.
A description of the suspect vehicle also surfaced: A white four-door Lincoln Continental, possibly a 1978 or 1979 model, with a sky-blue vinyl half top and oval opera windows. Police say the car was in good condition and that it had hubcap spokes, whitewall tires with thin white stripes, and very dark windows.
"It was the best lead and was vigorously investigated, but nothing came of it," Hasty said.
Working the streets and talking to people proved to be another dead end.
"All of our interviews were unfruitful. No one would talk," Hasty said.
It's because, he believes, that pesky self-preservation persists. It's not valid, he says, and he's tired of it.
"It's likely because someone who was there or knows something about it fears potential consequences. They fear they were involved in something that could get them in trouble. They were somewhere they think they weren't supposed to be, or maybe in violation of a probation, or something like that. Or maybe they feared they could suffer retaliation," Hasty said. "Well, enough years have passed where that likely is no longer going to be the case. In all of our criminal investigations throughout the years there hasn't been a single situation where someone paid a price for offering information. Or were hunted down by someone. That's more of what you see on TV or in the movies."
Speaking of price, a $28,000 reward remains available to someone who provides information that leads to an arrest and conviction.
Meanwhile, Hasty is saddened to know that Warren's mother has lessened her communication with detectives, as if to have given up hope.
"We try and check in with the families of victims at least once per year around the anniversary date of their loved one's death, but in her case I learned a lesson years ago when I called her on the very day," Hasty said. "That was far too much for her to handle. I've learned that the day-of is a day of reflection for the family.
"Since then, she's found it increasingly difficult to participate. But we keep working the case to our best ability, like all the others. I can't tell you how much I hope I can sit down at her kitchen table and bring her the news that we've caught her daughter's killer. And I know for sure that this is a case where someone has the answers.
"It's time they stepped forward and did the right thing."
www.tbnweekly.com/clearwater_beacon/article_adb147a6-2584-11e9-b57e-8b6174965436.html
Thoughts?
Admin Note #1: According to the above article, anyone with information on this case should call police at 727-562-4242 or email [email protected] You can also call Crime Stoppers of Pinellas County at 1-800-873-TIPS; you may be eligible for a cash reward. One other option is the TIP411 system – texting your tip and the keyword CWPD to 847411.Admin Note #2: If you have any (news-related) updates on this case, please contact us here: amwfans.com/thread/1662/website-contact-form(/b]