Post by HeadMarshal on Jun 27, 2018 14:44:48 GMT -5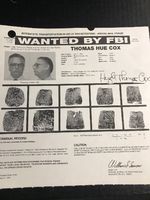 Photo Credits: Ebay (more information below)
Vital Statistics
DOB: July 11, 1932
POB: Mitchell County, NC
Height: 5'7
Weight: 130-175 lbs
Build: Heavy
Hair: Brown (Graying)
Eyes: Brown
Race: White
Occupations: Cook, College Instructor, Restaurant Manager
Remarks: Speaks fluent Spanish
Case
Cox is being sought for conspiring to allegedly have a commercial establishment set ablaze to fraudulently collect insurance monies. Cox has previously been convicted of armed robbery.
An arrest warrant was issued on August 20, 1984 in Baltimore, Maryland charging Cox with interstate transportation in aid of racketeering, arson and mail fraud.
Based on original investigating agencies, it is advised to contact the FBI's Baltimore Field Office at (410) 265-8080 if you have any information regarding the whereabouts of Thomas Hue Cox.Moderator Note: If you have any additional information or news-related updates on this case, please contact us here: amwfans.com/thread/1662/website-contact-form
--
Thoughts? Some back story in that in 2015 we received a master list of fugitives profiled through AMW's long run, including many early season cases that were not aired in later seasons. Thomas Hue Cox was one of those cases. While we admit listing all of them on this website would be virtually impossible due to how old some of these cases are, it just happened that someone on Ebay posted this FBI Wanted Notice of Thomas Hue Cox for sale, which happens from time to time. Credit goes to that person for helping in their own way to making this thread possible.
Only issue is that the Maryland court records page has no entry at all on Thomas Hue Cox, and I've checked multiple times. I don't know if it means the case never went to court or not. What I think may have happened in this case, is that the racketeering and interstate transportation charges could have been a federal warrant, which is why this case may not show in on the state level.
If Thomas Cox is still at large to this day (date of original posting- June 27th, 2018) (and please let us know through our website contact form if you have evidence proving the contrary), who knows if he would still be alive at 86 years of age. It's doubtful, but regardless this case needs official closure, even though it was a white-collar crime to get insurance money.
Not sure also when this case was exactly on AMW, but it was most likely aired sometime during the early 90s.