Post by HeadMarshal on May 23, 2018 15:06:38 GMT -5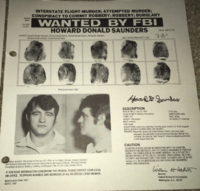 Photo Credits: Ebay (see below for explanation)
Vital Statistics
DOB: July 19, 1952
POB: Danbury, Connecticut
Height: 5'9
Weight: 180 lbs
Hair: Brown
Eyes: Blue
Occupations: Small arms repairman, security guard, former US army sergeant.
Remarks: Reportedly speaks and writes German, French and some Asian languages. He has received extensive martial arts training.
--
Howard Saunders is being sought for allegedly shooting a victim to death and wounding another during the course of an armed robbery. He is knowledgeable in the usage of firearms and paramilitary work. A federal arrest warrant was issued on February 22, 1984 out of Las Vegas, Nevada for unlawful flight to avoid prosecution.
Based on investigating agencies, it is advised to contact the FBI's Las Vegas Field Office at 702-385-1281 if you have any information on Howard Donald Saunders's whereabouts.Moderator Note: Any news-related updates on this case or additional information can be forwarded to us at amwfans.com/thread/1662/website-contact-form
--
Thoughts? Some backstory in that a few years ago we received the "AMW Master List" of almost all the fugitives AMW had profiled over the years, including many from the early seasons (1988-1998). Howard Donald Saunders was a listed fugitive we could not profile at the time because we knew very little about this case. Fast forward to a week ago when I was browsing ebay for FBI identification notices that periodically get updated when I happened to see the order for Howard Saunders listed among a large collection. I thank the uploader for getting this photo out there and I aim to make no financial gain off the photo, just information for an old AMW case.
I'm not sure when exactly the murder occurred since I have yet to see an actual archived news article on this case, but the murder itself probably occurred a little before 1984. I'm also requesting information since I am not 100% certain as to when Howard was aired on AMW, or if he's even still at large. The Las Vegas Odyssey court records page mentions certain warrants being active, like the case of Juvenal Sandoval in the non-tv show cold case fugitives section, but there's no entry at all on this case, making me believe it has yet to go to trial as of this posting date. (5/23/2018).
At one time there appears to have been a lot of attention on this case. If you google search "Howard Donald Saunders" you'll see his name referenced in two chronological date websites. As we've seen with other cases, the cold case fugitive files often get stuck on a shelf and newer cases are prioritized ahead of them as they become easier to solve rather than the longtime fugitives.