Post by Scumhunter on Apr 21, 2018 0:50:14 GMT -5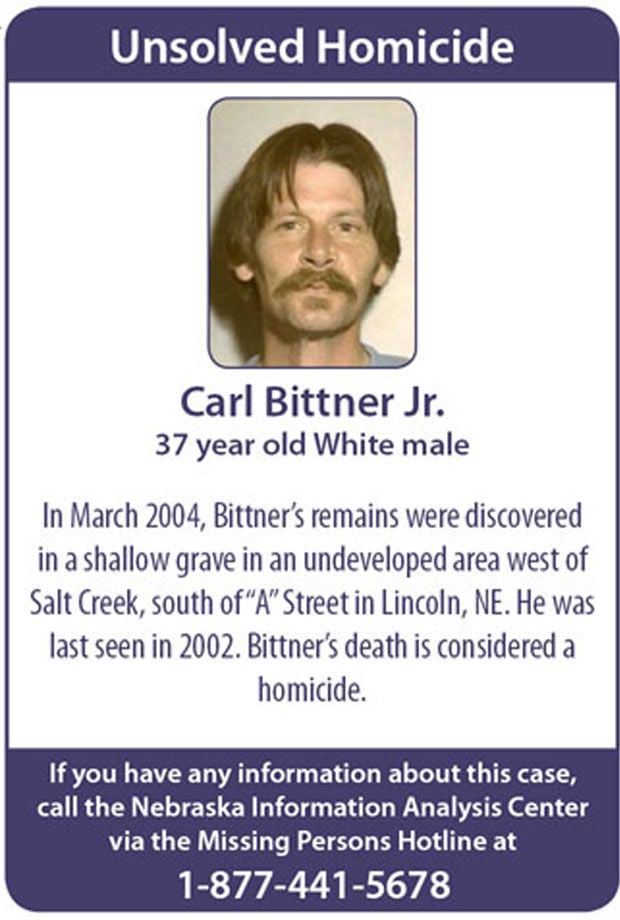 (Above photo credit: Lincoln (Nebraska) Journal-Star website)
From 1011now.com: (May 2016 article):
LINCOLN, Neb. (KOLN) Twelve years later, so many questions are still unanswered surrounding the death of Carl Bittner.
Reported missing in 2002, Bittner was found buried in 2004 just west of Salt Creek between West A and South Street.
His body was found in a shallow grave in an area where transients often stay, according to Lincoln Police. Bittner was homeless when he went missing, he was staying in a tent in the area.
For the first time, Sergeant Luke Wilke, Central Investigations Unit with the Lincoln Police Department is releasing new information to 1011 News.
Sergeant Wilke said, "We talked with FBI Profilers, because of some of the case facts, there is a pretty good indication that Carl may have been killed by somebody who was established in Lincoln and had ties to Lincoln at the time."
Bittner's sister, Kimberly Funes, said the last time her family heard from Bittner was through a letter sent to her dad.
Funes said, "He had money saved up and he was going to be purchasing a two bedroom trailer. It sounded like things were going really good for him with work, collecting money and getting his life back in order.
Bittner had his demons, like everyone does, Funes told 1011 News. Throughout his life, he had an alcohol problem.
Bittner moved to Lincoln for work with a friend of his. Funes said her dad met the friend before, and that's who filed the missing person report.
Funes said, "He was living in a tent, he was homeless, what the heck, you know? Now he is murdered and he is dead underneath a shallow grave. If you're riding the rails, I see them murdering him yeah, but not covering it up."
Working on the case since 2007, Sergeant Wilke said, "I would really like it if someone would call in, they can call Crime Stoppers or they can call me direct. Carl's parents are still alive and he's got a sister who is a really nice lady. They would like to have some resolution to this."
Crime Stoppers: 402-475-3600
www.1011now.com/content/news/Cold-Case-Carl-Bittner-found-buried-in-Lincoln-379089541.html
Thoughts? According to a Lincoln Journal-Star article, Carl's case was unfortunately still unsolved as of January 2018:
journalstar.com/news/local/911/getting-away-with-murder-nebraska-cold-cases/collection_bce233ce-34fb-5855-b435-38c7ba7537e2.html#6
Admin Note: If you have any (news-related) updates on this case, please contact us here: amwfans.com/thread/1662/website-contact-form