Post by Scumhunter on Aug 30, 2017 16:58:09 GMT -5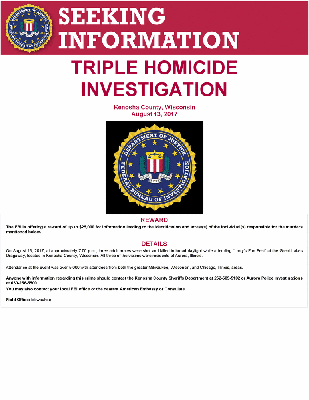 (Above photo credit: fbi.gov)
From the Chicago Sun Times website:
Federal authorities are offering a reward of up to $25,000 for information about the fatal shooting of three west suburban men earlier this month at a drag strip in Kenosha County, Wisconsin.
The victims were shot just before 7 p.m. on Aug. 13 while attending the "Larry's Fun Fest" drag racing event at the Great Lakes Dragaway, 18411 1st St. in Union Grove, Wisconsin, according to a statement from the Kenosha County sheriff's department. All three men suffered multiple gunshot wounds.
David L. Watson, 30, of Oswego, died on the way to a hospital, the sheriff's department said. Khalid R. Howard, 30, of Aurora, and 26-year-old Derek K. Edwards, of North Aurora, were both pronounced dead at the scene.
Investigators believe the shooting was gang-related, the sheriff's department said. More than 5,000 people were attending the event at the time of the attack.
The suspect was described as a 5-foot-9 black man between 20 and 30 years old with a thin, athletic build, according to the sheriff's department. He had shaved hair on the sides of his head with the top of his hair described as "scruffy."
The FBI announced on Tuesday that it was offering a reward of up to $25,000 for information leading to the identification and arrest of the person responsible for the murders.

Anyone with information is asked to call the Kenosha County sheriff's department at (262) 605-5102 or Aurora Police Investigations at (630) 256-5500.


chicago.suntimes.com/news/25k-reward-offered-in-great-lakes-dragaway-murder-of-3-suburban-men/
wgntv.com/2017/08/13/multiple-people-shot-at-wisconsin-drag-racing-track/
FBI link:
www.fbi.gov/wanted/seeking-info/kenosha-homicide-investigation
Thoughts? While as articles note all three victims were known alleged gang members, it is of course still no excuse for this kind of violence and it cannot be tolerated. 5,000 people were at this event! Innocent children could have been caught in the crossfire and killed for all we know.
With that being said, it's said some of the family members and others involved are said to have not been cooperative. And they really should be for everybody's sake.
Admin Note: If you have any news-related updates on this case, please contact us here: amwfans.com/thread/1662/website-contact-form