Post by HeadMarshal on Aug 13, 2017 19:53:15 GMT -5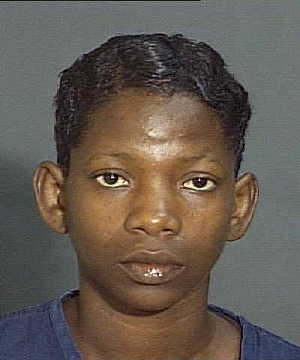 Photo Credits: Palm Beach County Sheriff's Office
Photo Date: 7/25/1999
Wanted As Of: 08/25/99
Alias: NATASHA CLEOPATRA MYERS
DOB: 2/5/1974
Sex: F
Race: Black
Height: 5'4
Hair: Black
Eyes: Brown
Weight: 135 lbs
Identifying Marks:
Last Known Address: WILLOW SPRINGS CIRCLE, LAKE WORTH, FLORIDA
Offense(s): FTA: CT 1-3)AGGRAVATED MANSLAUGHTER OF CHILD
POB: JAMAICA
--
On February 13, 1999, Natasha Myers was with her three children in a home without electricity. She lit a candle and went to take a shower while her boyfriend went to purchase cigarettes. The candle caught the house on fire and killed the three children, 2-year old Stanley Morris Jr., 4-year old Theresa Jackson and 5-year old Robert Jackson. Natasha was arrested but failed to appear in court and a warrant was issued for her arrest.
Based on crime location, it is advised to contact the Palm Beach County Sheriff's Office at (561) 688-3000 if you have any information on Natasha Myers's whereabouts.Moderator Note: If you have any news-related updates on this case, please contact us here: amwfans.com/thread/1662/website-contact-form
--
Thoughts? This is an extremely tragic case, and there are only a handful of cases on this forum with the deaths of this many children. There is a difference between this and say that case of John List (AMW Capture #50). This looks based on the police investigation, to be a case of neglect where someone needed to be looking after the three children. This isn't a situation where one or both parents were at work. This is where the boyfriend went to get cigarettes while Natasha allegedly went and took a shower.
If that is how this truly played out, then I'm sorry, getting cigarettes could have waited! That is common sense that it's not a necessity at the expense of leaving three children alone with a fire hazard. This was completely preventable.
Surprisingly, from 1999 to 2012, this case was never on AMW or even their website. In fact, the only reason I got access to the case details were from articles through newspapers.com from 1999 to 2002. This is a manslaughter case, not a murder case yes, but it's still the death of multiple children. Someone needs to get this case some overdue publicity. If Natasha's in Jamaica, then at least there is an extradition treaty where hopefully manslaughter is an extraditable offense.
www.pbso.org/myers-natasha/