Post by HeadMarshal on Aug 12, 2017 17:15:34 GMT -5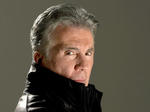 1998 episode (exact date unknown)
Captured: Tom Curtis
- Seemingly personable high school student body president committed 19 armed robberies with Ethan Thrower in Portland (doesn't specify Portland, OR or Portland, ME, but I'm assuming Oregon). Showed up at senior class trip in Mexico and all of his classmates refused to turn him in. Thrower was put out of commission after accidentally shooting himself in the testicle (!!). Curtis was arrested in Las Vegas.
Captured: Jamie Hawkins
- Turned himself in after quickie profile (possibly from previous week). He and his girlfriend severely beat and neglected her two year old daughter, eventually beating her to death. Girlfriend had previously been arrested and placed on one million dollar bond (the highest ever for that particular county). John Walsh says there's no punishment too severe for Hawkins (I agree).
Public Enemy #1: Eddie Mathis
- Wanted for killing two adults and placing young child in closet for 14 hours while murders were carried out. Has violent history and is a gun fanatic. Once robbed bank and nearby White Castle while bank's alarm was going off. Once narrowly escaped capture. He is also a crossdresser and is on the U.S. Marshalls 15 Most Wanted list.
Juan Jimenez
- Last remaining member of trio who robbed and killed Bob Rooney during a home invasion in Glastonbury, CT in 1991 is wanted.
Unknown National Monument thief
- Searching for whoever is responsible for stealing part of a National Monument in Montana. This occurred on federal land, so it is a federal crime.
Julie Holmquist
- Minnesota teenager has disappeared. (It was later discovered she was sexually assaulted and murdered. Curtiss Cedergren killed himself as the authorities were closing in on him.)
On Aug 16, 2003, AMW tipsters led cops to the Detroit hotel Eddie was hiding out in. Eddie pointed a gun at the officers and they in return shot him dead. He is Capture #758.
Juan Jimenez is still at large. He was first aired in 1994 and last aired in 2004.
amwfans.com/thread/1405/juan-jimenez-connecticut-1991