Post by HeadMarshal on Jun 13, 2016 10:45:09 GMT -5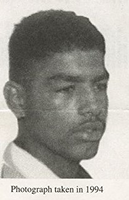 Photo Credits: Amazon.com for the Robert Herrera picture, Reading Police Department for the Israel Mendoza picture.
Name: Robert "Lucky" Herrera (Pictured Left)
AGE: Approx: 38 (As of 06/13/16)
HEIGHT: 5 ft.
WEIGHT: 140 lbs.
HAIR: Brown
EYES: Brown
SCARS: Unknown
TATTOOS: Unknown
COMPLEXION: Dark
ASSIGNMENT #: 1998-44775
Name: Israel "Izzy" Mendoza (Pictured Right)
AGE: Approx: 36 (As of 06/13/16)
HEIGHT: 5 foot 7 inches
WEIGHT: 150 lbs.
HAIR: Brown
EYES: Brown
SCARS: Unknown
TATTOOS: Unknown
COMPLEXION: Medium
ASSIGNMENT#: 1998-44775
---
On August 2, 1998, Robert Herrera, Israel Mendoza and two of their fellow Latin Kings gang members, were cruising the streets of Reading, Pennsylvania. They were looking for a rival member of the Bloods gang that they intended to kill. They managed to find the gang member and opened fire in his direction but they missed completely. Their bullets instead struck and killed Michelle Lutz and wounded another woman. After the shooting, the two accomplices, Placido Rodriguez and Joshua Ramirez were caught and convicted, with Placido having since been released. The shooters, Robert and Israel have been at large ever since.
---
Thoughts? Robert and Israel are my 50/50 fugitives out of Pennsylvania. What makes this case even more tragic is that Michelle's son had to grow up without her in his life. Michelle's sister even tried to get this case on AMW but it was never added to the website so it looks like the show turned down the request to have it aired. Even though these two will be tough to locate, they would have been better cases to be aired then those bizarre unsolved murder stories in 2010. The photo we have of Robert unfortunately is very bad in terms of quality, which doesn't help things. But fugitives on the run for longer than these two have still been caught, so anything is possible. Two countries were readers may want to especially look out for these two are Mexico and the Dominican Republic according to investigators, but perhaps they might be elsewhere in Latin America as well after 18 years.
According to online wanted posters, Anyone with information on the whereabouts of either Robert Herrera and/or Israel Mendoza should contact the Reading Police Department's Criminal Investigation Division at 610-655-6246.

Also any news-related updates on this case can be forwarded to us at amwfans.com/thread/1662/website-contact-form
www.readingpa.gov/content/israel-mendoza
www.readingpa.gov/content/robert-radhames-herrera
www2.readingeagle.com/article.aspx?id=151863